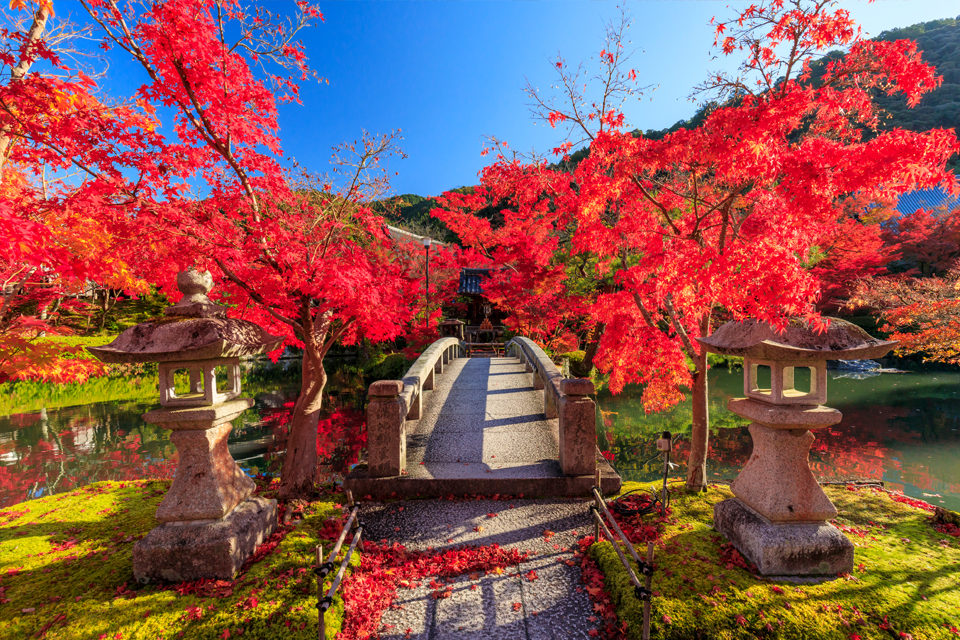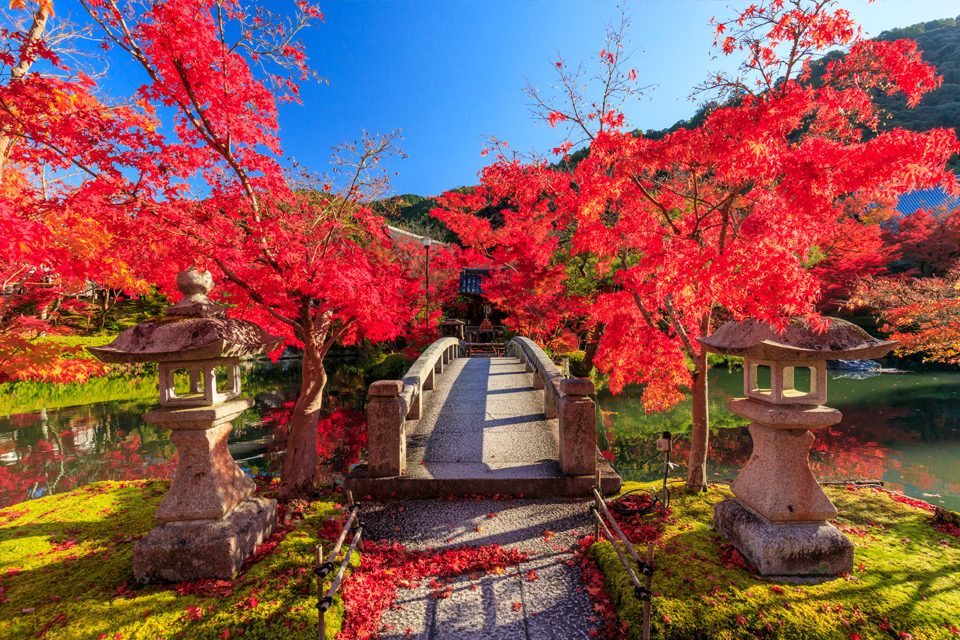 The proper name of Eikan-do is Zenrin-ji Temple. In Heian period 853AD, it was built by the disciple of Kobo-Daishi, Shinshou. The former of Zenrin-ji was the villa of nobleman Fujiwara No Sekai. In the waka (Japanese poem) collection"Kokin Wakashu", it mentioned Fujiwara No Sekai had praised for the red leaves sceneries here by waka. After then, "Autumn Maple at Eikan-do"turned to be another name of here. Here becomes the place for maple for long time ago.
Where are the places for red leaves photos in Eikan-do?
There are about 3000 tress in Eikan-do, like maples, acer palmatum, common smoke tree etc. Specially introduce the sceneries from Hojo-ike pond (releasing life pool) to Pagoda at the side of the mountain. Not only autumn colors can be seen around Hojo-ike pond, also the reflections of the fall foliage. All are good for photo taking. Can photograph the Kinunkyo Bridge on Hojo-ike pond, Torii and Yume-an hut of Benzaiten are most well-known position to take pictures. If not in rainy days, the "Mikaeri Tea House" nearby Hojo-ike pond is also good for beautiful red leaves scenery photos. Views as the praising sentences "What time to go to see? Red leaves through the cracks of rocks, twinkling under the sun shines"of Fujiwara No Sekai , can be seen on the cliffs at the pack of Mieido House. The space in front of pagoda can observe all the red leaves in the temple.
The red leaves lighten-up night tours of Eikan-do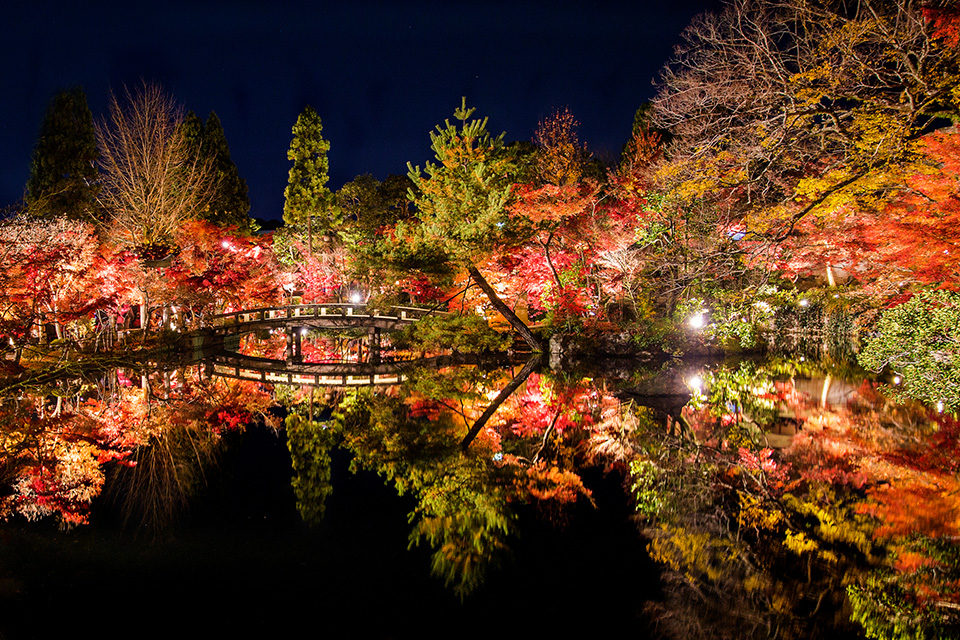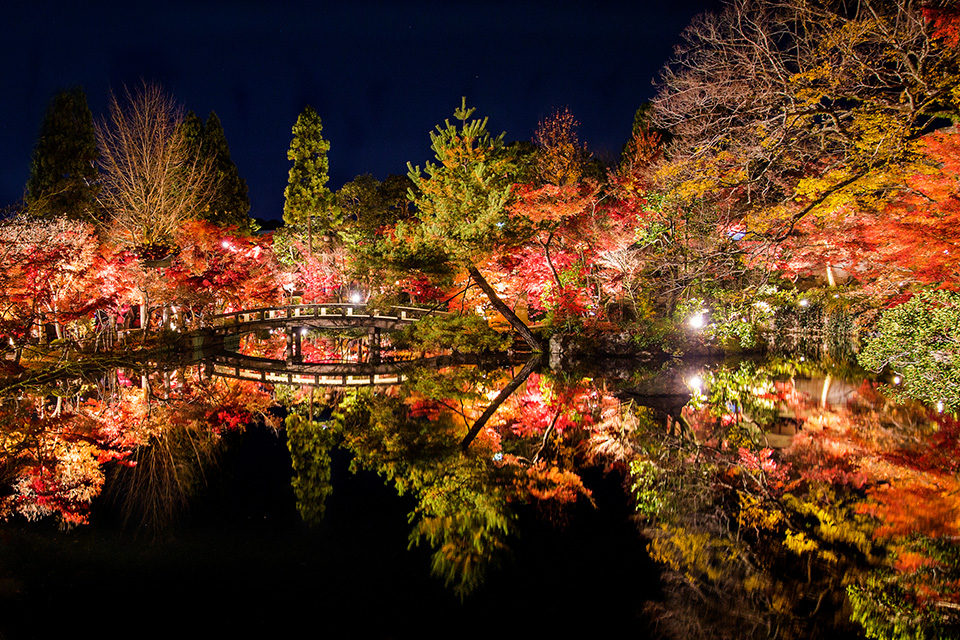 For reference, in 7th November to 6th December 2017, from 5:30pm to 8:30pm, there is a lighten-up night tours. Be aware that daytime tickets for daytime only. On the Kinunkyo Bridge to look down on Hojo-ike pond after lighten-up, visitors can see the red leaves floating on dark water, it offers illusions to you. Let tourists enjoy the unique scenery.
When is the red leaves blooming time in Eikan-do?
Generally it is mid November to early December every year. But it varies as the climate will be different year by year. For reference, in 2017, the treasures of the temple exhibited together with lighten-up event.
How is the crowded situation in red leaves period of Eikan-do?
The name of "Eikan-do" because of the 7th abbot of Eikan-do It was said that monk Eikan prayed text by himself in midnight, Amitabha came down from the sky and walked past Eikan. Eikan was so concentrated and discovered lately. He sighed and said "Eikan is late". Then he left a statue of "Amitabha Looking Back", this turned to be an important treasure of Amidado Hall. Go along with hill side will arrive Mieido House and Pagoda. Between them is linked by Garyu-ro. The rare'Sanko Matsu"(Pinus Leaves with 3 branches) can be found at here. They are also a feature of Eikan-do. In red leaves period, the treasures of the temple will specially displayed. Do not miss them.
Other red leaves tourist spots around Eikan-do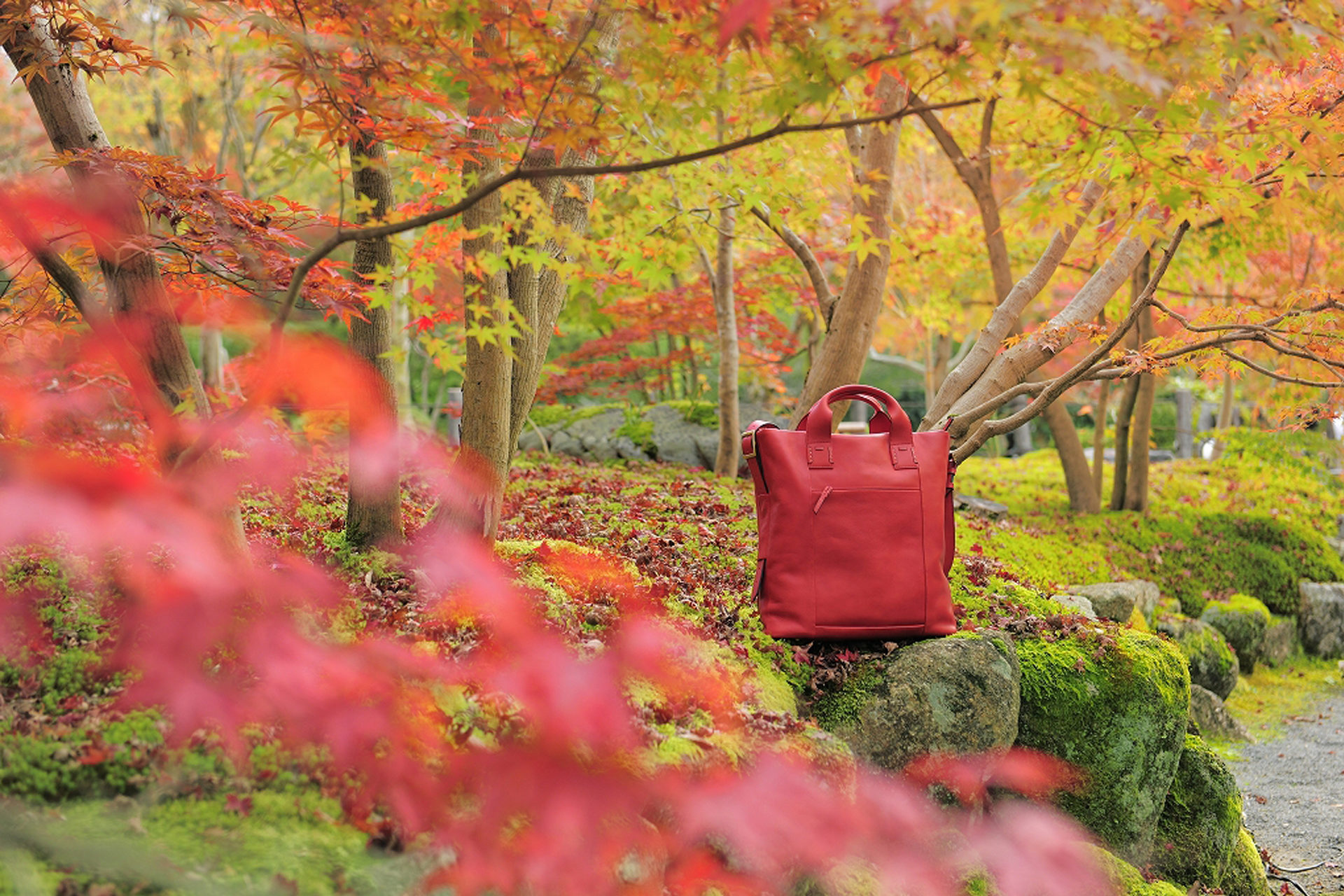 Nanzenji
There was praised "Extreme beautiful scenery!" by the famous thief in Sengoku period , Ishikawa Goemon. Sanmon (main gate) and concrete arch dam water divisions are well-known. The Tenjuan in Nanzenji is also a famous place for red leaves. There are also lighten-up tours.
Murin-an Villa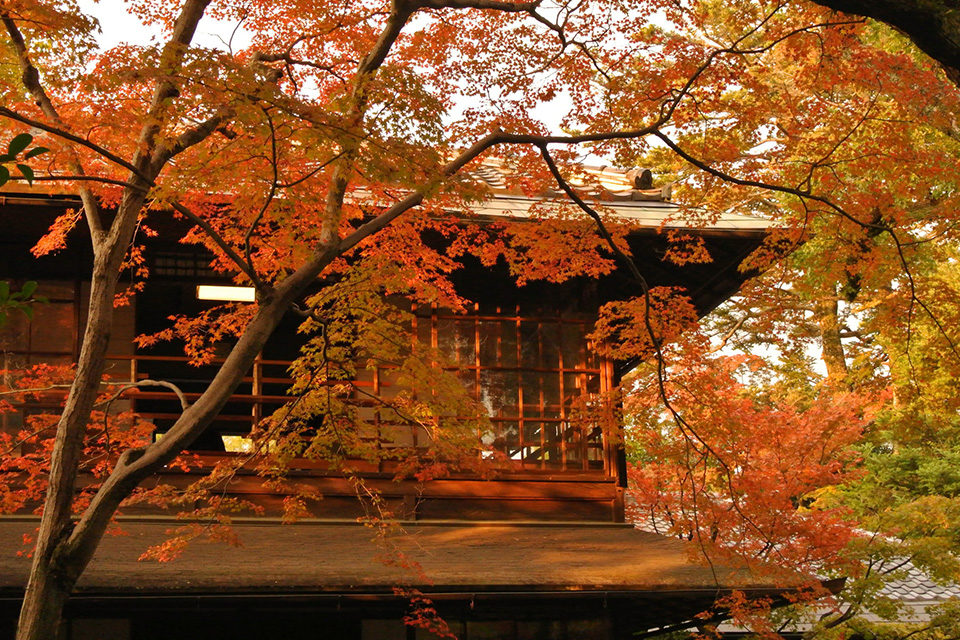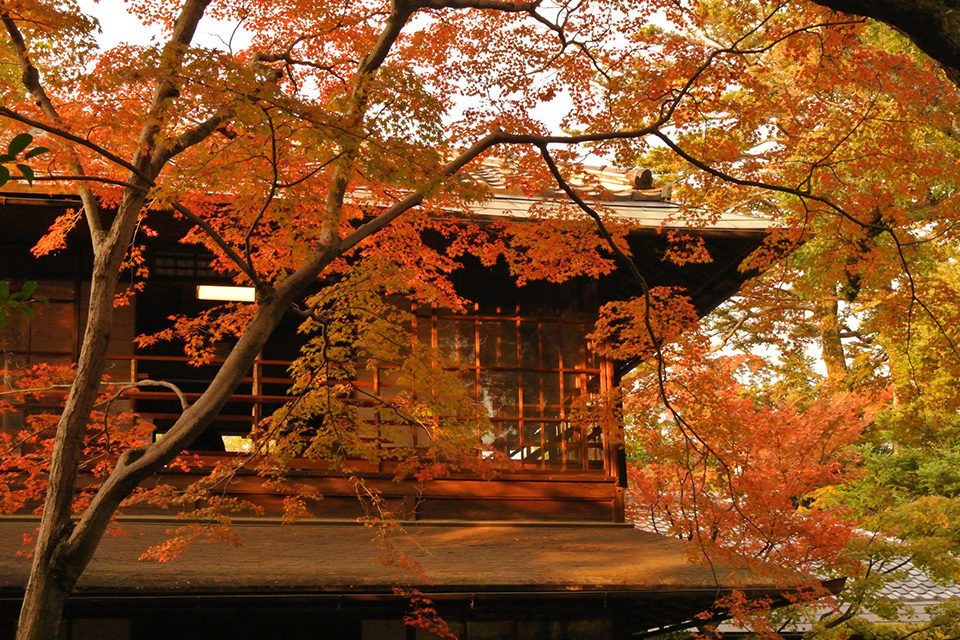 It was the ruin of the villa of Yamagata Aritomo. A garden constructed by Ueji Ogawa Jihei VII. Bright red leaves can be seen in Kyoto City. During the lighten-up touring period, gardening tutors will provide 3 lessons per day.
Himukai-Daijingu Shrine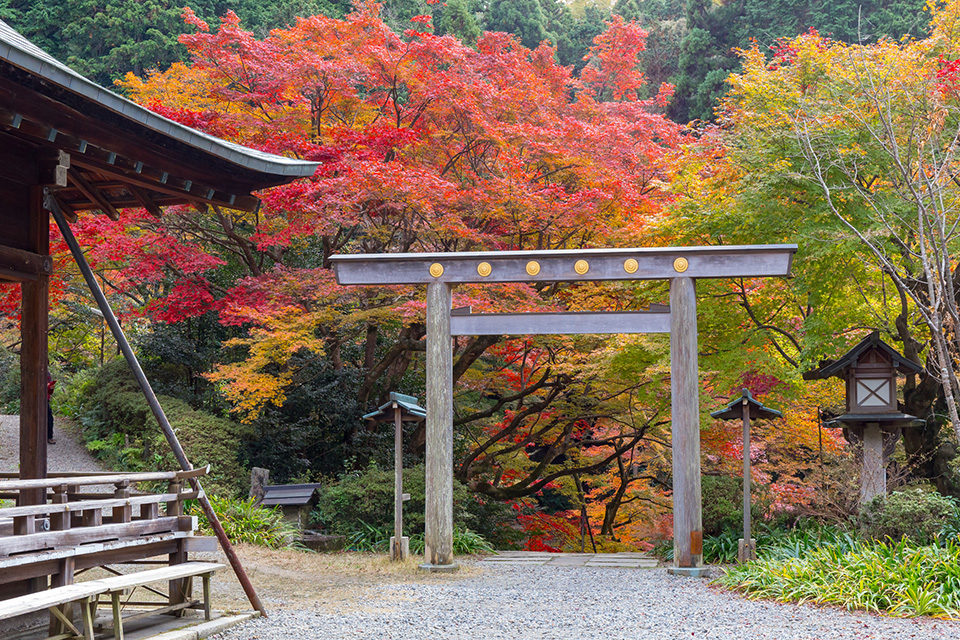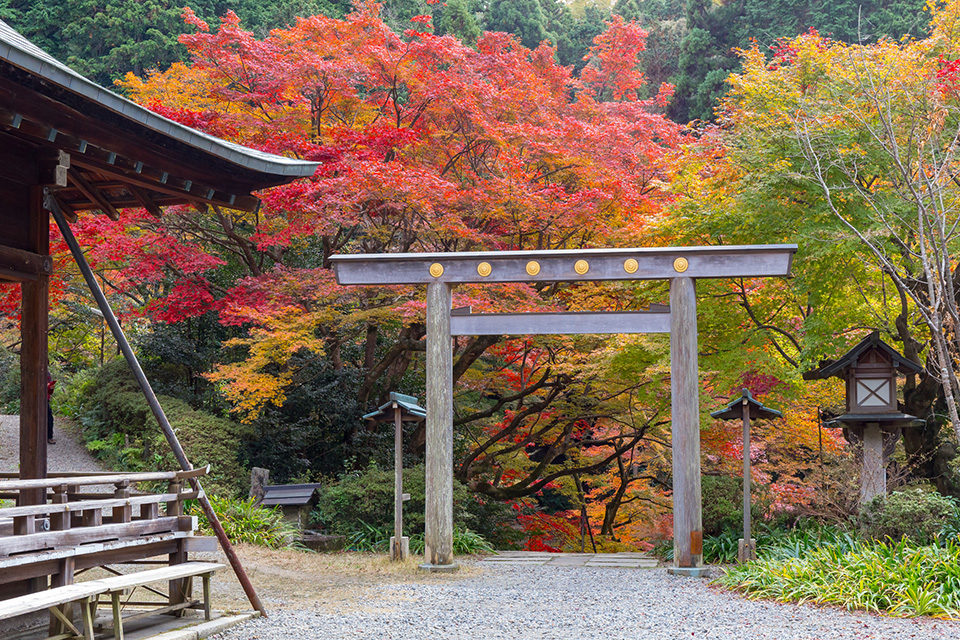 Be said as"Ise in Kyoto", Himukai-Daijingu Shrine is a hidden place for red leaves. There can visit Amano-Iwato which is a stone cave related to a Japanese tale and cerasus subhirtella.
Anrakuji Temple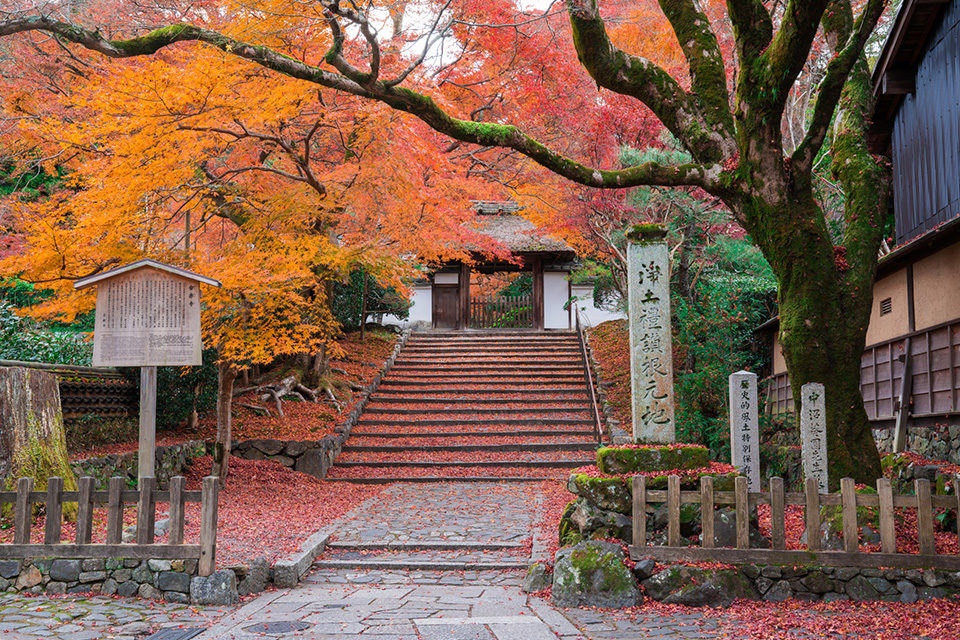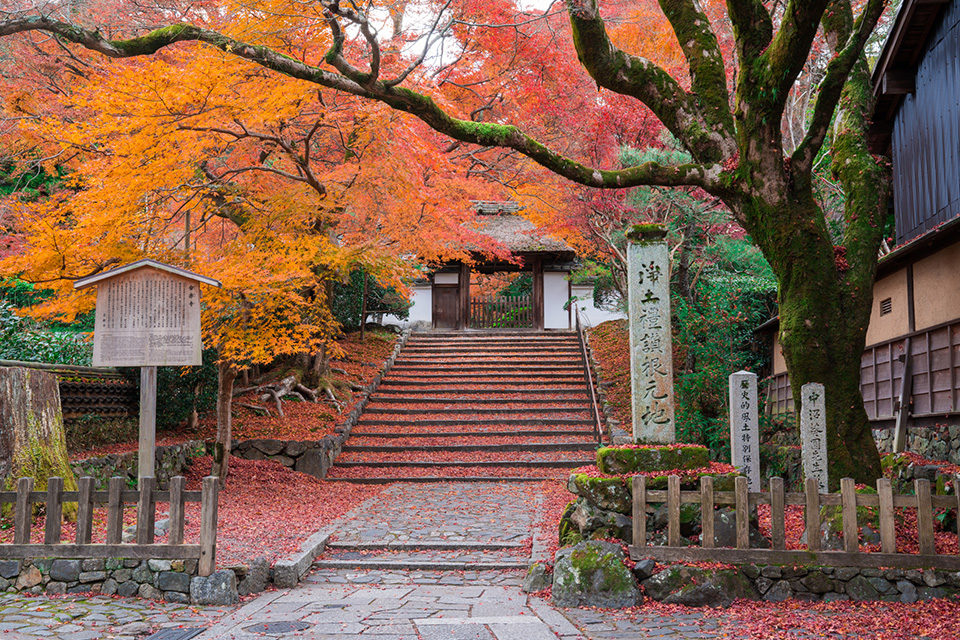 It is in the Path of Pilgrimage, the thatch door is eye catching. It will not be open to public in general days. Only be open in spring and autumn red leaves period. You can smell the autumn's flavor at the stairs in front of the main door.
Honen-in Temple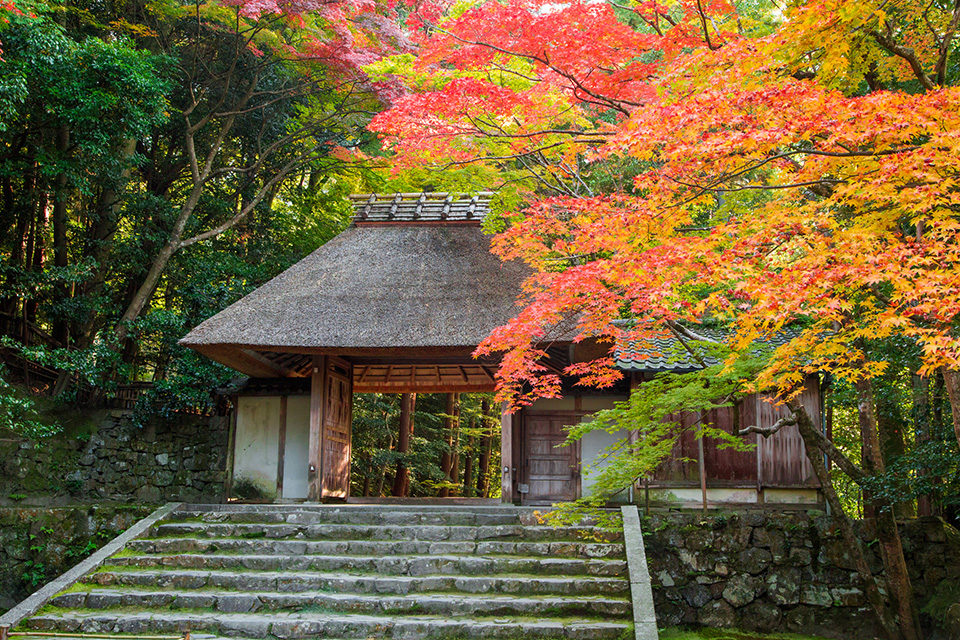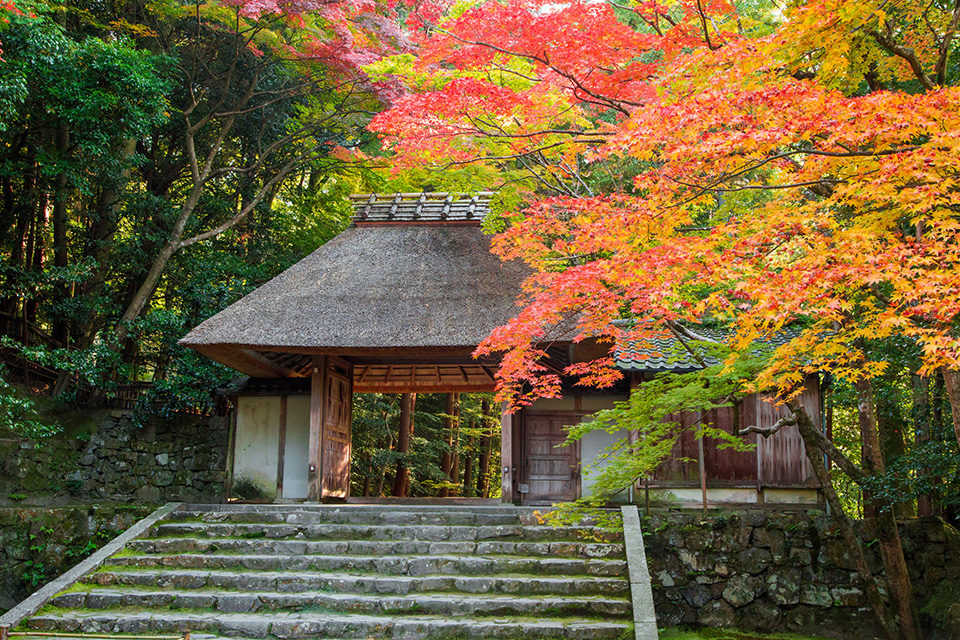 It is at the north of Anrakuji Temple. The main door is set by thatch. Take a view inside here, red leaves look like being framed as a famous picture. After moving in, visitors can see the garden set up with white sands by the monks, together with fall foliage, combine as a beautiful picture.
Opening hours: 9:00am to 4:00pm (closed at 5:00pm) Night lighten-up event: 5:30pm to 8:30pm (closed at 9:00pm) Fee: 1000Yen for adults, 600Yen for secondary and primary school Night lighten-up event: 600Yen for older than secondary school
Address:
48 Eikandocho Sakyo-ku
Get off at Nanzenji Eikandodo Bus Stop by City Bus, 3mins walk
Get off at Higashitennocho Bus Stop by Ctiy Bus, 8mins walk
Get off at Keage Station by Subway Tozai Line, 15mins walk
Car park: Not available during special worship and night lighten-up event
The closest car park is "Times Eikando mae"Address: 23 Nanzenji Kitanobocho Sakyo-ku. Since there is only available for 4cars, suggest parking at car park in Minami Park Address: 63 Okazaki Saishojicho Sakyo-ku
Epilogue Eikan-do Temple is the most famous red leaves observation place, plenty tourists specially come in autumn. "Autumnal maple of Eikan-do" will not be overrated. Even if not visiting in red leaves period, Eikan-do Temple is still worth to travel. No matter what time it is, arrange to have a visit of Eikan-do!