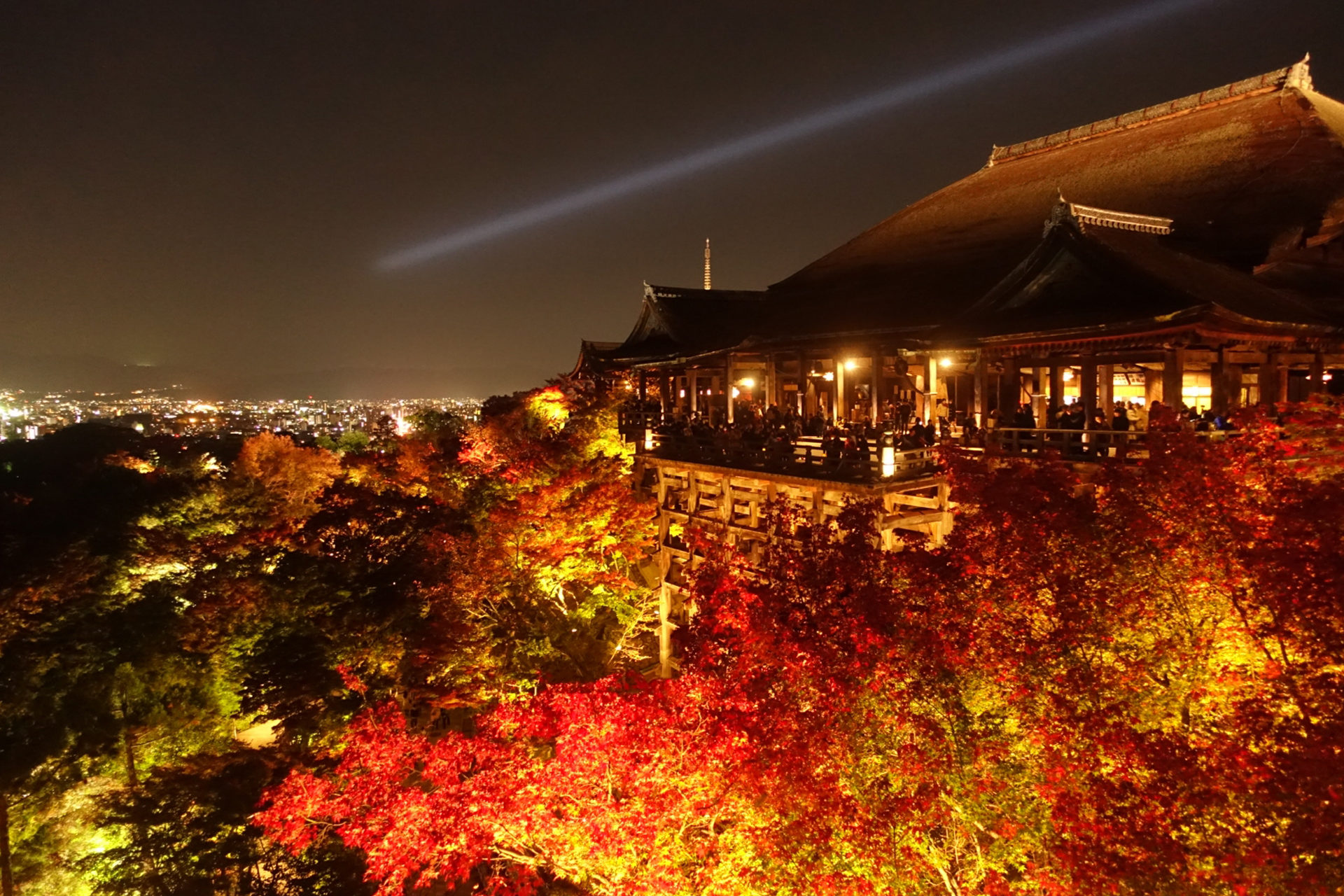 One of the most famous sightseeing place in Kyoto, it is rare not to go here. However, since the main hall is under decoration, visitors may be less than before. So why don't take a visit of Kiyomizu-Dera Temple this year? The red leaves in here are also famous.
Which places are recommended to take photos in Kiyomizu-Dera Temple?
The decoration of the main hall will be finished until March of 2020. The major project must work with scaffolds to renew the roof. It affects the outlook of the main hall, but still can visit the Kiyomizu Stage. In the area about 1000 red leaves trees. The valley named Kinun Kei and red leaves sceneries of Kyoto is able to be observed on Kiyomizu Stage. If you want to take Kiyomizu Stage & Kinun Kei into a photo, you need to move further in direction to Koyasu Noto pagoda of Okunoin to get the view. The pond and tea house under the 3-storeyed pagoda is also good places for red leaves photos. Designed by the painter Soami in Muromachi period that is re-decorated by Kobori Masakazu named Moon Garden is located in the garden of Jojuin. The reflection of fall foliage called Reversed red leaves is one of the marvels.
The lighten-up night tours of red leaves in Kiyomizu-Dera Temple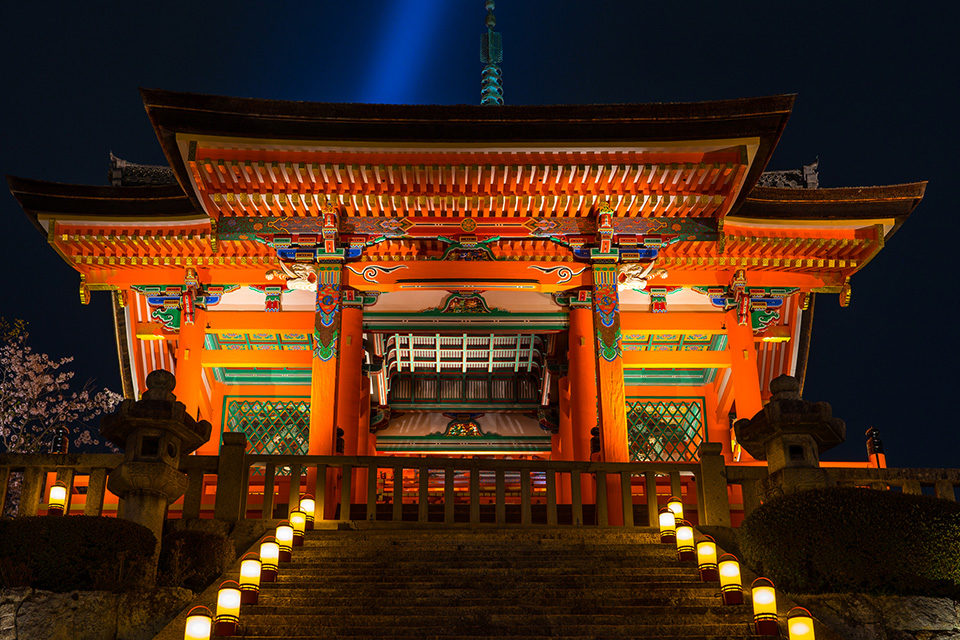 The lighten-up night tours in 2018 will start in the time of 17th November to 2nd December, from 5:30pm to 9:00pm. Garden of Jojuin will be from 6:00pm to 8:30pm. There are different tickets for daytime and nighttime, if enter an hour before the closing time will not be so crowded. Since scaffolds are made by transparent material, the light of lamps can go through the curtains, this causes another type of scenery. The Guanyin (Kannon) statue in the temple will be illuminated by blue light, it looks more mercy. Observing from Kiyomizu Stage, not only can enjoy the illuminated red leaves, but also the night views of Kyoto.
What is the red leave blooming time in Kiyomizu-Dera Temple?
Generally, it is from end November to early December, but since climate varies differently every year, it will change the time. Better visit the facebook or website of Kiyomizu-Dera Temple for the update information.
How crowded it will be in the red leaves in Kiyomizu-Dera Temple?
Kiyomizu-Dera Temple is a very famous temple in Kyoto, a lot of domestic Japanese tourist will come for sightseeing every year. Recently, tourists from aboard become more and more. Suggest waking up earlier and arriving there before 10:00am. If visit before or after the peak time, can take walk leisurely.
Features of Kiyomizu-Dera Temple
Another name of the maindoor of Kiyomizu-Dera Temple is "Red Door", the proper name is Niomoncho. It was built between 1568-1600AD, in Momoyama period. It was once renewed in 2003 (Heisei period 15 years). The west door is praised for sunset views. The tallest 3-storeyed pagoda in Japan was repainted in red color in 1987AD (Showa period 62 years). In the gloomy Zuigudo Hall, need to catch the prayer balls and move toward the light, like a new born baby move for birth. A deep meaning of it. On top of Kiyomizu Stage is the main hall that now is in process of a great repair project in this 50years. The inner part of the main is still able for observation. One point must be mentioned, that is the main hall and Kiyomizu Stage built up without a nail. They were built on a cliff by the method of hanging. There is a statue of Mahakala near the main hall. And the wooden clog and khakkhara (monk staff) of Benkei, who was a sohei (warrior monk) followed Minamoto no Yoshitsune. Behind the main hall, it is the Jishu Jinja which is famous for praying good affinity. There is a waterfall "Otowa no Taki", a 3 branches of waterfall, are also named Golden Water or Enmeisui. People allege that will get efficiency for study, love and health. But it will turn inefficient if getting drink all of them.
Other places for red leaves around Kiyomizu-Dera Temple
Kodai-ji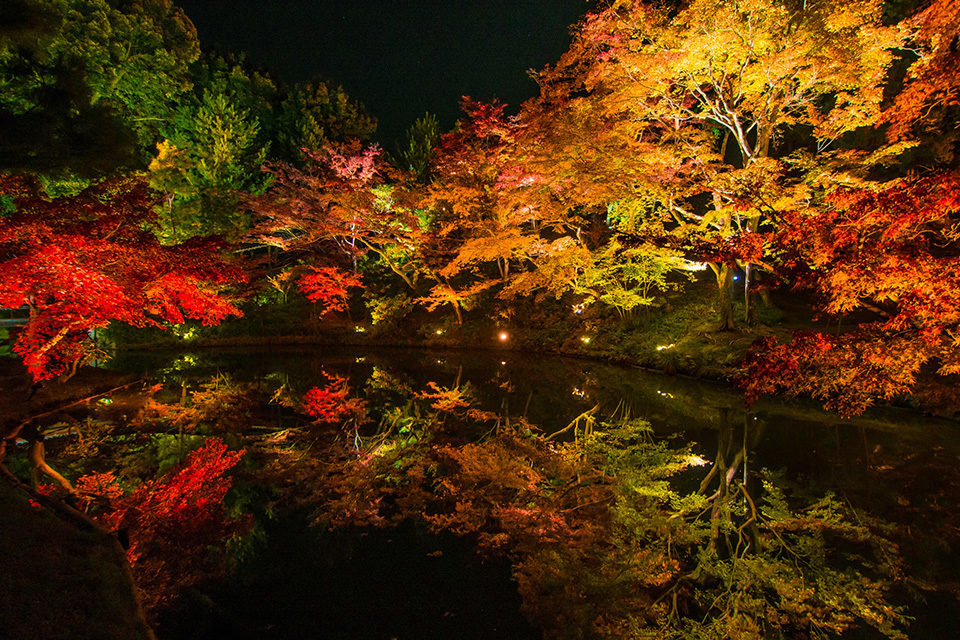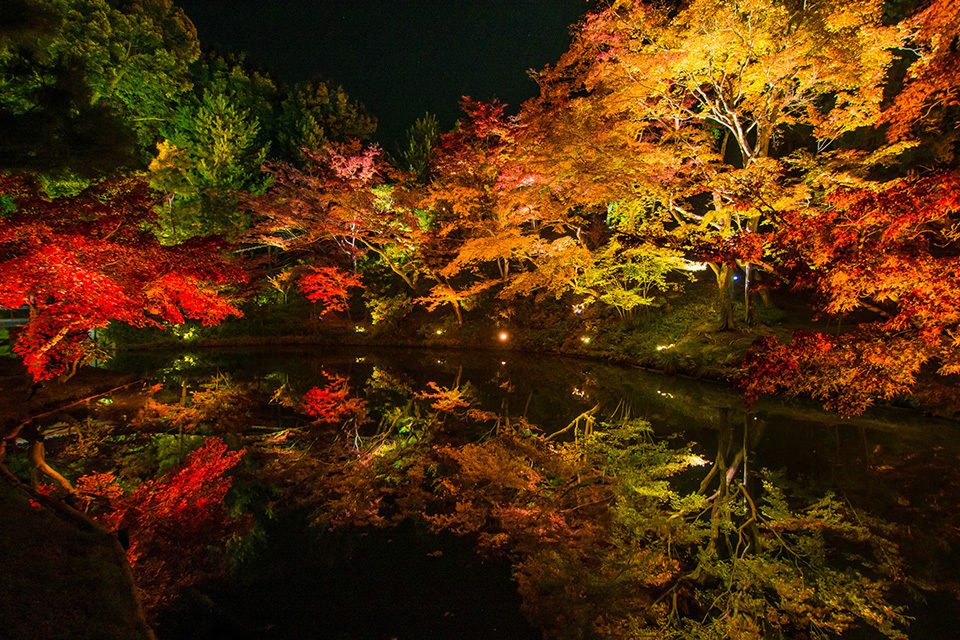 This temple was built by Nene, the proper wife of Toyotomi Hideyoshi. It was well-known for the decoration of Kodai-ji Makie. Visit the relative Kodai-ji Sho Museum and can observe the relative arts. During the red leaves period, with hold colorful project films, interesting illustrations will be projected. The Karesansui dry rock garden in Tatchu sub-temple Entoku-in is also good for red leaves.
Maruyama Park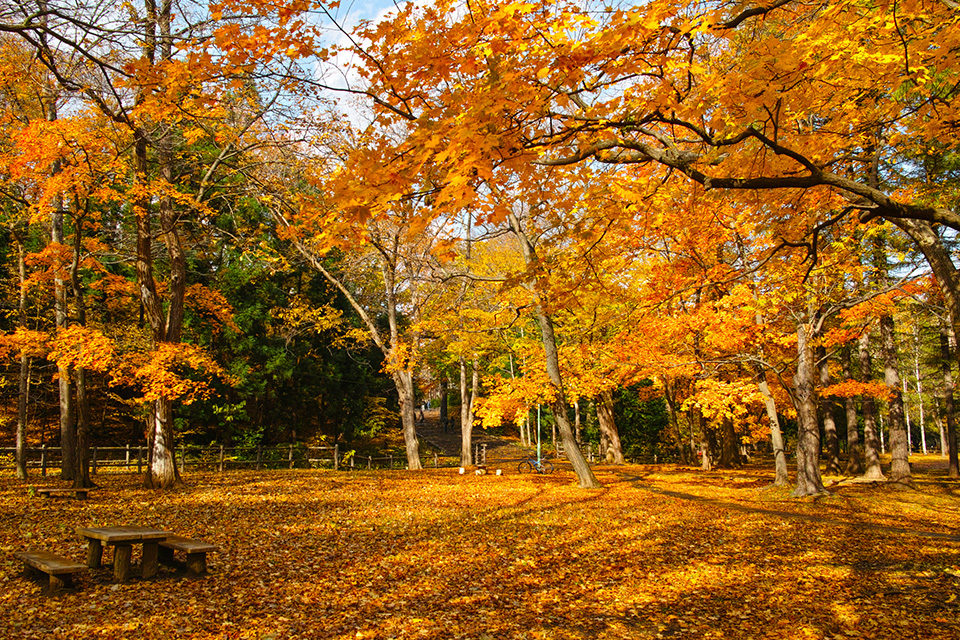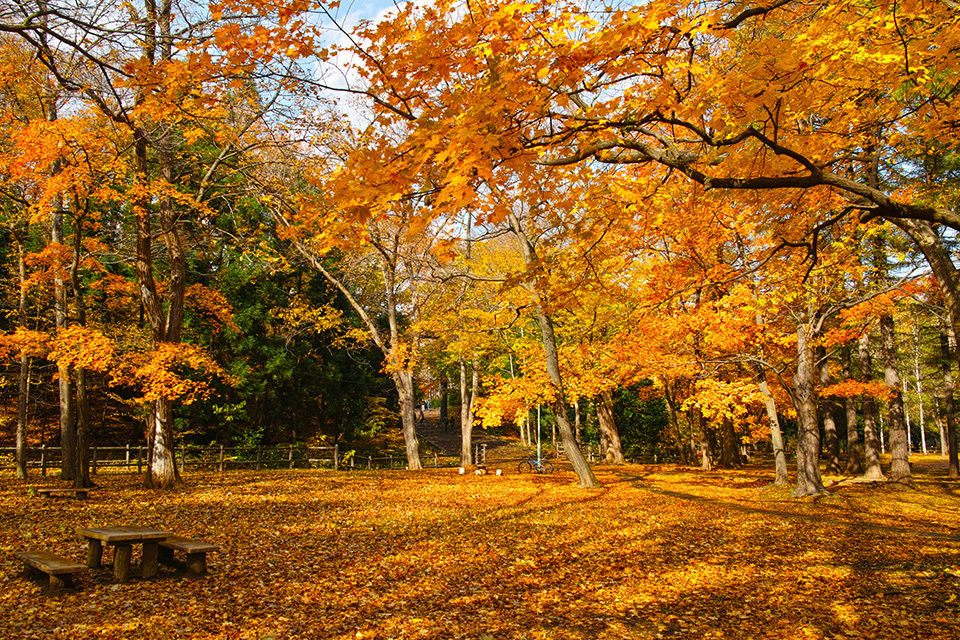 There is famous for sakura in spring, also a hidden tourist spot for red leaves. The garden was made by Ueji Ogawa Jihei VII. Travelers can see red leaves of full-moon maple trees around Gourd Pond and the fountain.
Choraku-ji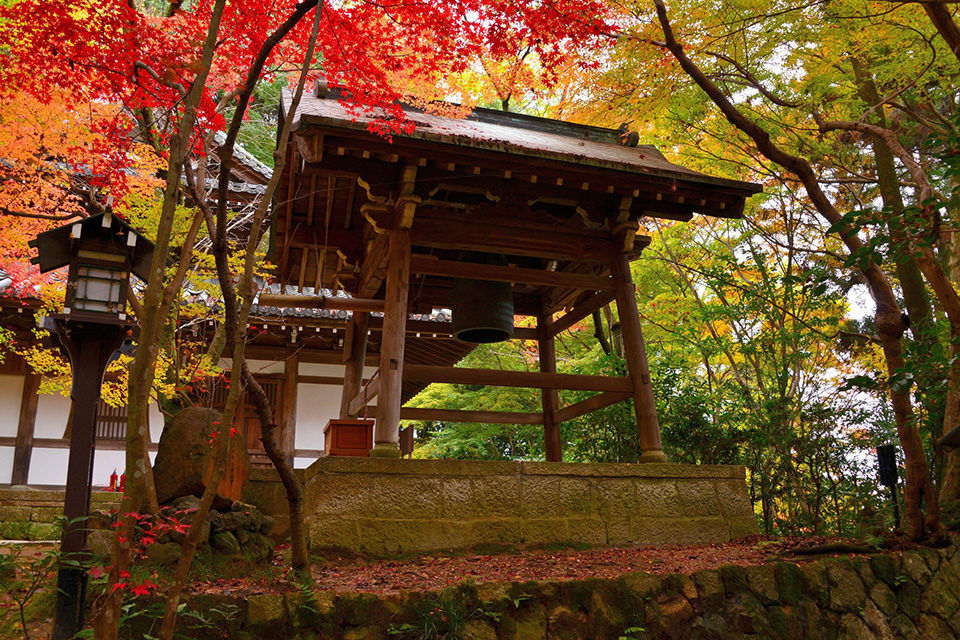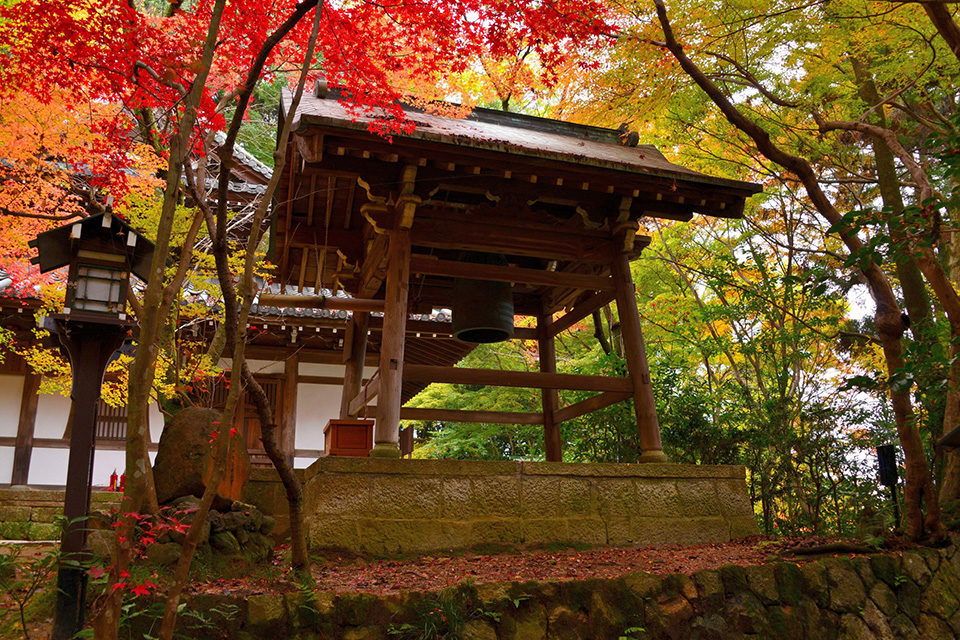 The deepest place of Maruyama Park, this temple was the 2nd daughter of Taira no Kiyomori, Taira no Tokuko being a nun. It happened before Soami built the Ginkaku-ji. Try to use Higashiyama to be the background of here. 23rd November is the Red Leaves Festival, Votive offering of Dancing in Kyoto will also be held.
Seikan-ji
From the deepest place of Koyasu Noto Tower in Kiyomizu-Dera Temple moving toward south east direction for a few minutes, tourist will find Seikan-ji. The path from Kiyomizu-Dera Temple to Seikan-ji is named "Uta No Nakayama", not only a popular place to observe red leaves, it is also famous for the tragic love story of Emperor Takakura and Kogo. Here get long distant sight for the whole Kyoto City.
Opening hours:Red leaves period: 17th November 2018 to 2nd December (6:00am to 5:00pm, lighten-up event: 5:30pm to 9:00pm) Jojuin Garden: 17th November to 2nd December 2018 (9:00am to 4:00pm, lighten-up event: 6:00pm to 8:30pm) Fee: Main hall・Stage: 400Yen for older than high school, 200Yen for secondary and primary school (Extra ticket for Jojuin Garden: 600Yen for adults, 300Yen for secondary and primary school)
Address: 2
94 Kiyomizu 1-chome Higashiyama-ku
Get off at Gojozaka Bus Stop or Kiyomizu-michi Bus Stop by City Bus, 10 mins walk
No car park, the closest car park is Kyoto Kiyomizuzaka Car Park ( Car park for 59 cars) and other car parks, very crowded in red leaves period.
Epilogue Because Kiyomizu-Dera Temple is very famous, though it is under construction, there are still many visitors here. To have a smooth and easy sightseeing, need to slightly adjust the visit time. The main hall is not clear as covered by curtain, if you do not travel Kyoto often, suggest visiting here during the time of lightening.