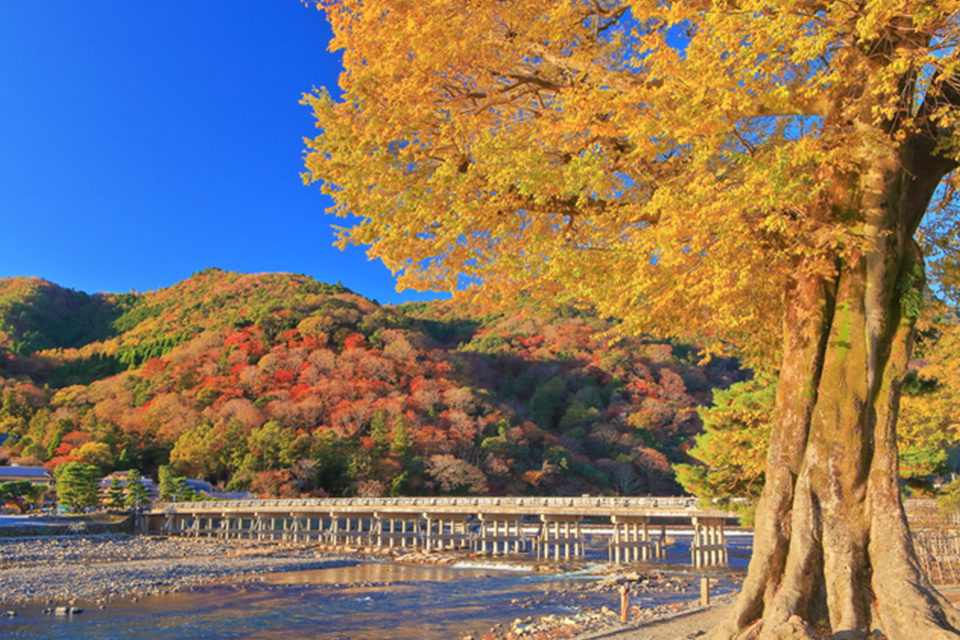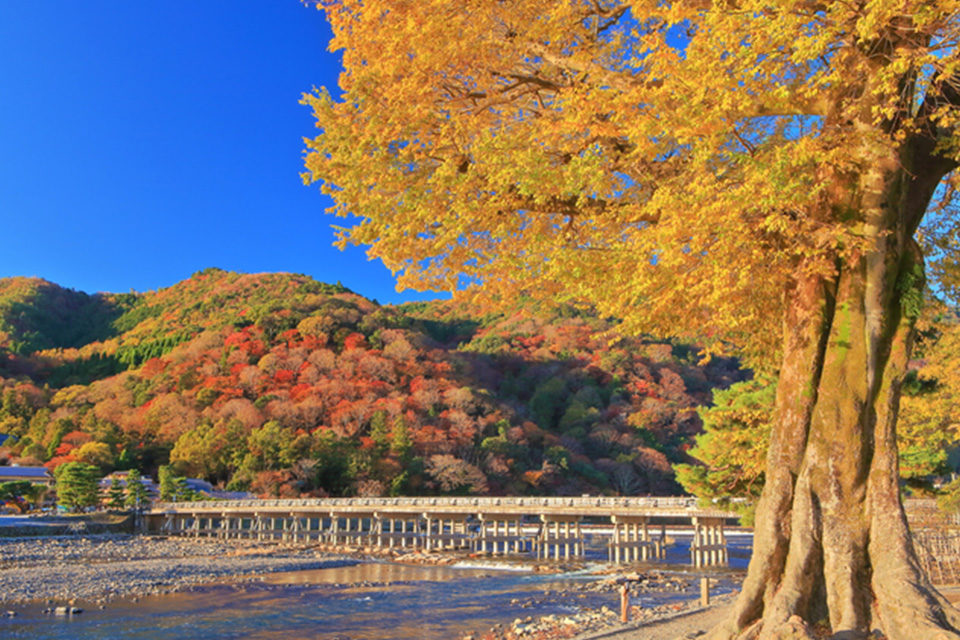 There are many sightseeing spots in Kyoto, and able to admire pretty red leaves. But the view spots that you plan to go maybe not in the same district or far away from stations. In this case, suggest to take a taxi as the efficient means. There are the recommendations of traveling red leaves sightseeing spots with taxi.
The advantage to travel by taxi
Maybe you do not know yet, there are routes called as "Taxi sightseeing Ruoutes" in Kyoto. Tourists can take taxi to visit main tourist spots. For example: "Following Nene's steps tour": Start from Kyoto Station to Kodai-ji Temple, then to Ento-ji Temple and back to Kyoto Station. This trip needs about 3 hours. Another one as "Favorite attractions for Heian's nobles", Arashiyama is the major sightseeing spot. This trip needs about 6 hours to complete.
Move effectively among the destinations
Because taxi drivers have professional knowledge of the roads, they know how to choose the shortest road to different destination. They can effectively move among the destination and save time. In red leaves season in Kyoto, roads become crowded but taxi in smaller size can go through some narrow lanes that buses are not able to go so they can reach destinations in shorter time.
Information of drivers who are familiar with roads of Kyoto
In the tourist service center of Kyoto, one service may not be known by most of the people. That is providing the information of drivers who have good knowledge of Kyoto. These drivers even can be a travel guide to explain about 300 temples and relative travel news in Kyoto. (Japanese only)
More special information can be obtained
The domestic drivers also can tell you their own news or valuable information. Even to bring you to recommendable restaurants for lunch or dinner by domestic people.
Take taxi to red leaves spots where can enjoy full of Kyoto autumnal colors
There are many beautiful sight seeing spots for fall foliage, but some of these places not easy be reach by train. In such case, suggest to take taxi. Here follows are the scenery sports better be visit by taxi.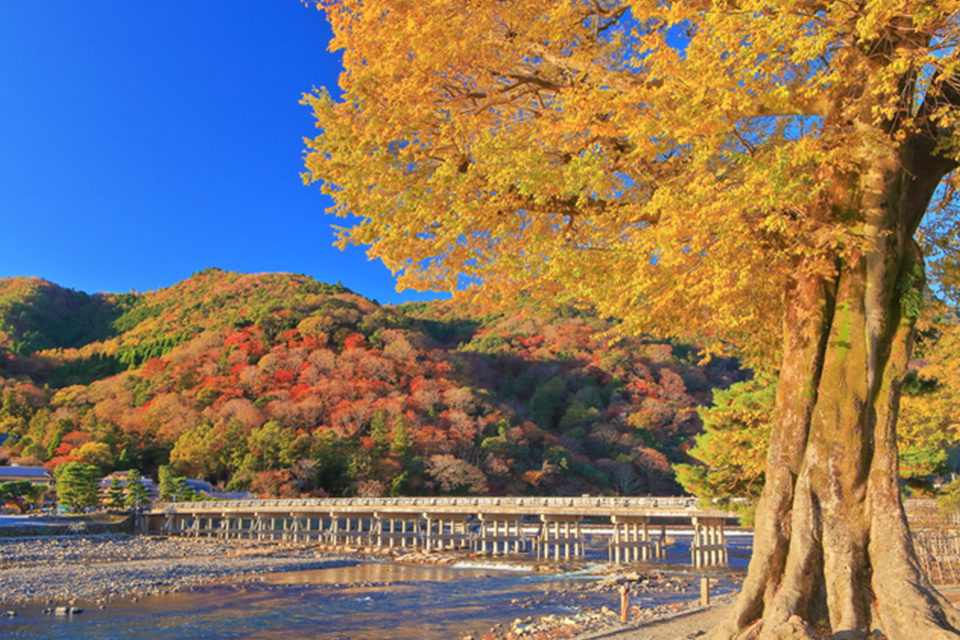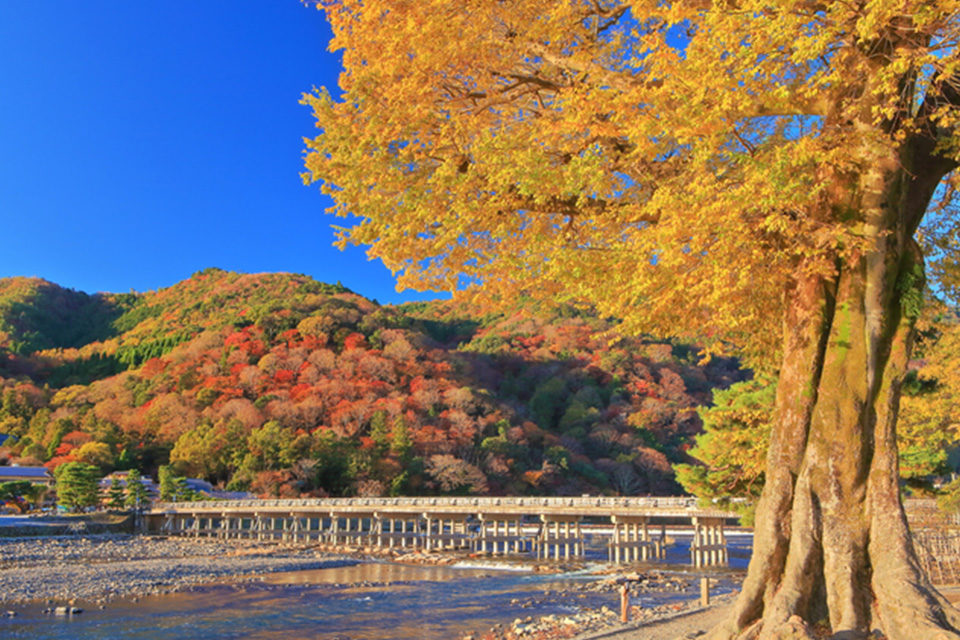 Arashiyama
In Heian period, nobles like to visit Arashiyama for landscape. Mountains are dyed into red and yellow by autumn leaves. As background of Togetsukyo Bridge and the slowly run Sagano Scenic Railway, upload to Instagram will surely get recalls for the beautiful scenery pictures. In nighttime, there are lighten-up activities. Feel the differences of attractions in Arashiyama between daytime and nighttime.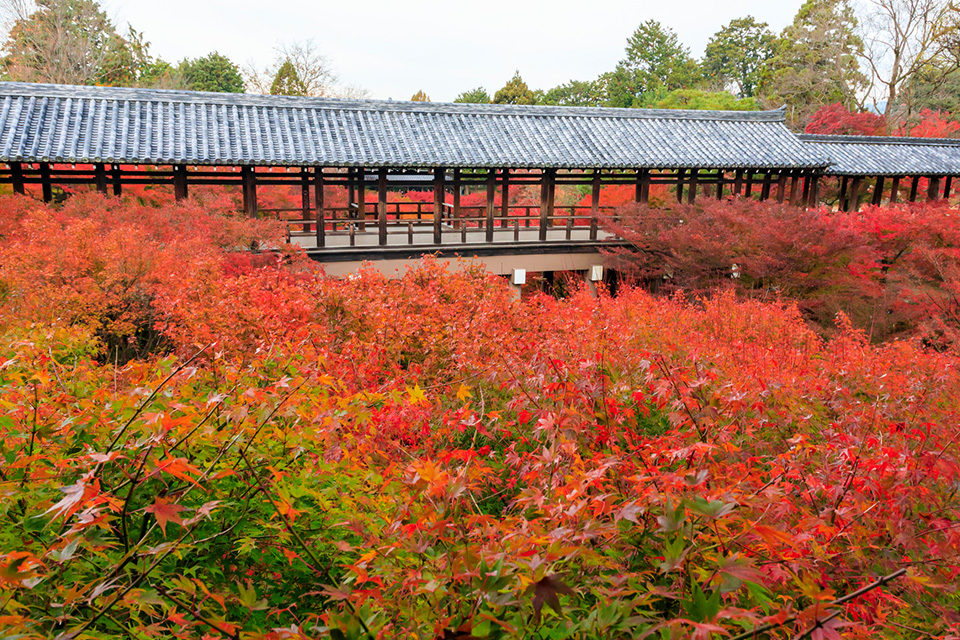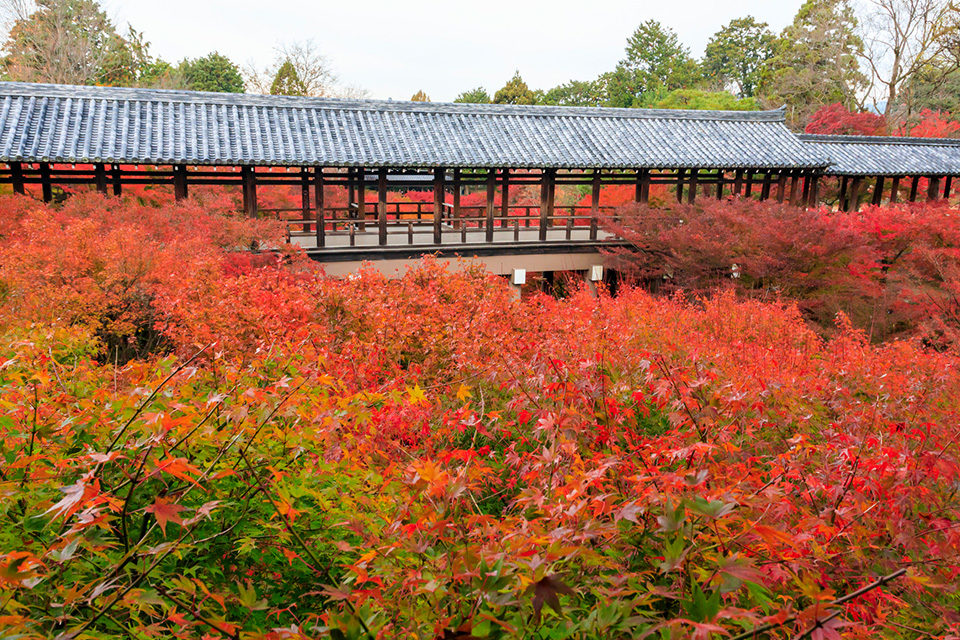 Tofuku-ji Temple
Be reputed as the top 3 best red leaves view spot in Kyoto, visitors can see red leaves everywhere in the temple. Pretty pictures are weaved by maple trees and full-moon maple. Especially, red leaves sceneries can be seen from Tsutenkyo Bridge and Gaunkyo Bridge. They are mentioned as a "waves of red leaves" and "red leaves ocean". This is the classical sight attraction; also the places that everyone wants to come to visit in autumn.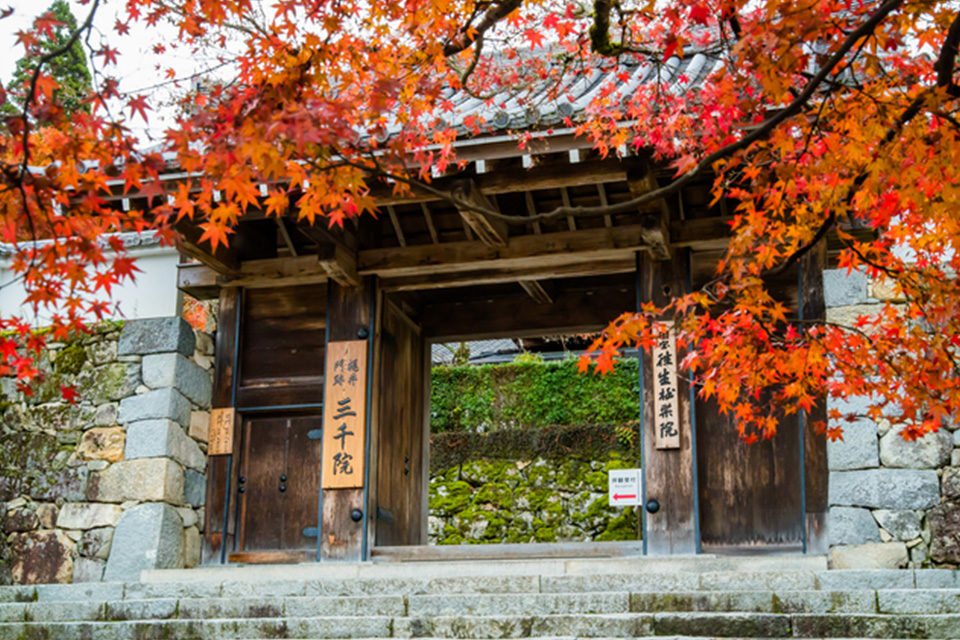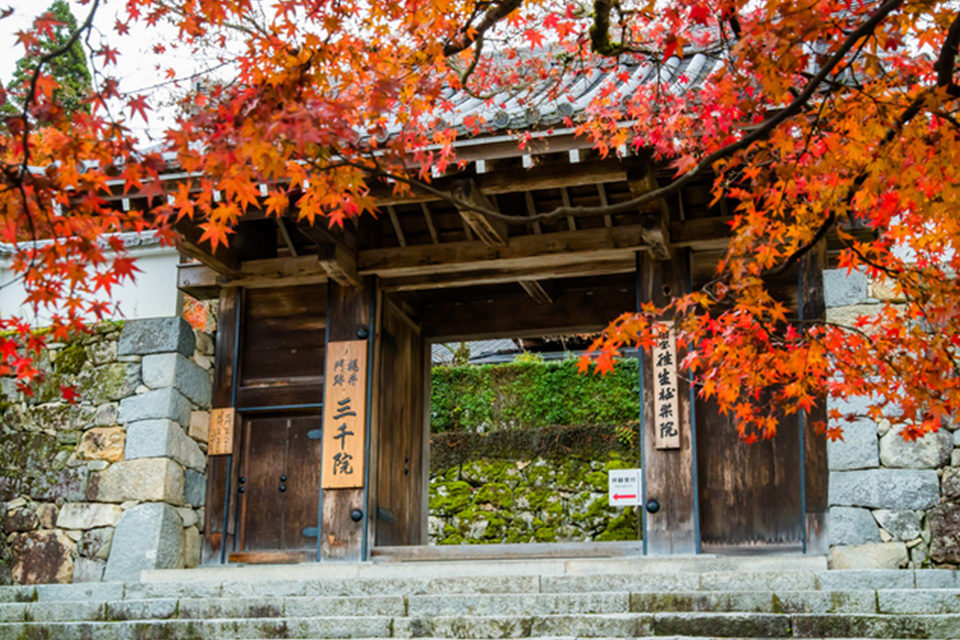 Ohara Sanzen-in Temple
It is located at Sakyo-ku Ohara, far away from Kyoto city center. As it is at the basin of mountain, the temperature difference is large between daytime and nighttime. The red leaves here have more contrast of colors. Nearby Sanzen-in, there are Jikkoin and Shorinin Temple well-known for red leaves sceneries. If take taxi to there, can visit all in one time. In red leaves period, roads around Sanzen-in will be stuffed. Suggest not going at peak time 10:00am to 3:00pm, so visit them easily.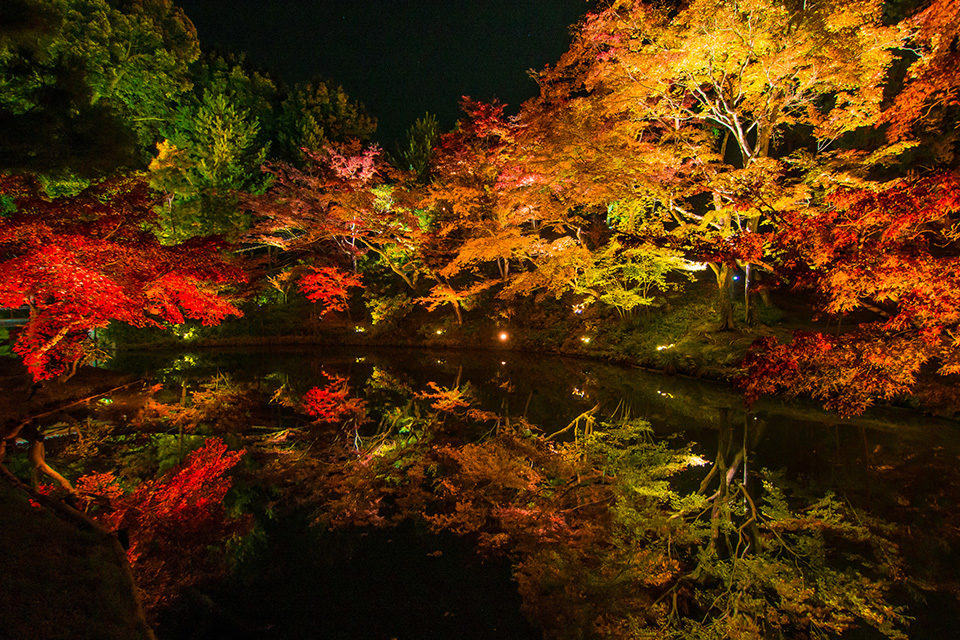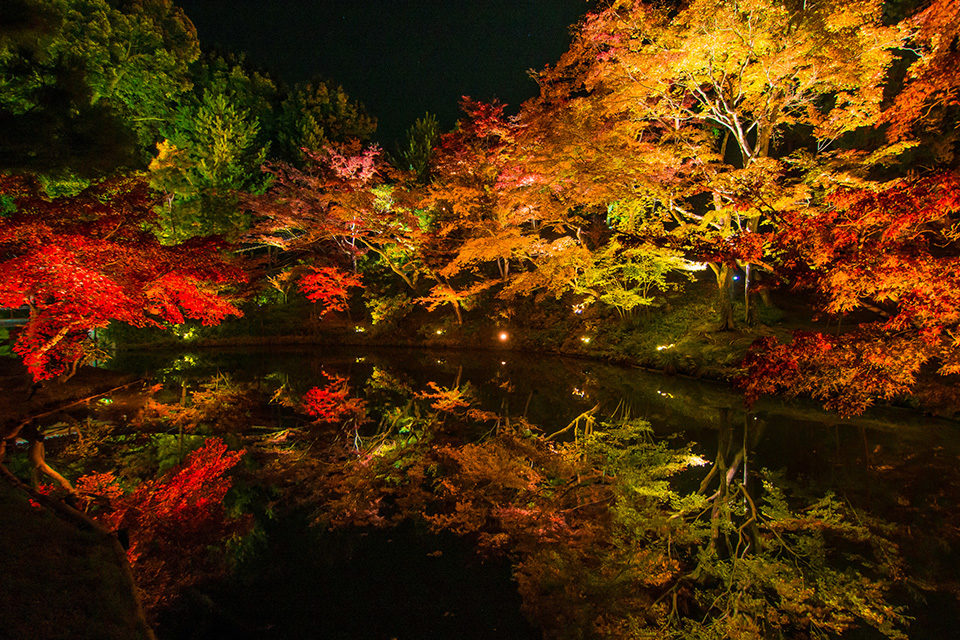 Kiyomizu-dera Temple~Kodai-ji Temple
Nearby Kiyomizu-dera Temple there are many places for red leaves. And Kiyomizu-dera Temple itself is also a hot attraction for Kyoto tourists. Other than visiting Kiyomizu-dera Temple, go down along Sannei-zaka and Ninen-zaka outside Kiyomizu-dera, there is the Kodai-ji Temple famous for its elegant garden. Kiyomizu Stage is the major place of Kiyomizu-dera Temple for red leaves sceneries. Watching the sharp red leaves under the skies of blue and clouds of white, it is a beautiful contrast of nature. If come at night lighten-up activities, the light pass through the red leaves is a wonderful scenery. Kodai-ji Temple was built for the blessing to Toyotomi Hideyoshi by his proper wife Nene. There is also a good place to enjoy the fall foliage with the lighten-up activities at night. When sunset, walking from Kiyomizu-dera Temple to Kodai-ji Temple can feel the peaceful mood.
Conclusion There are plenty beautiful attractions of red leaves in Kyoto, some of them are not easy to reach by train. In such ease, suggest taking taxi so can visit them effectively and no waste of time. And recommend those places that can go by taxi: Arashiyama, Tofuku-ji Temple, Ohara Sanzen-in Temple and Kiyomizu-dera Temple.