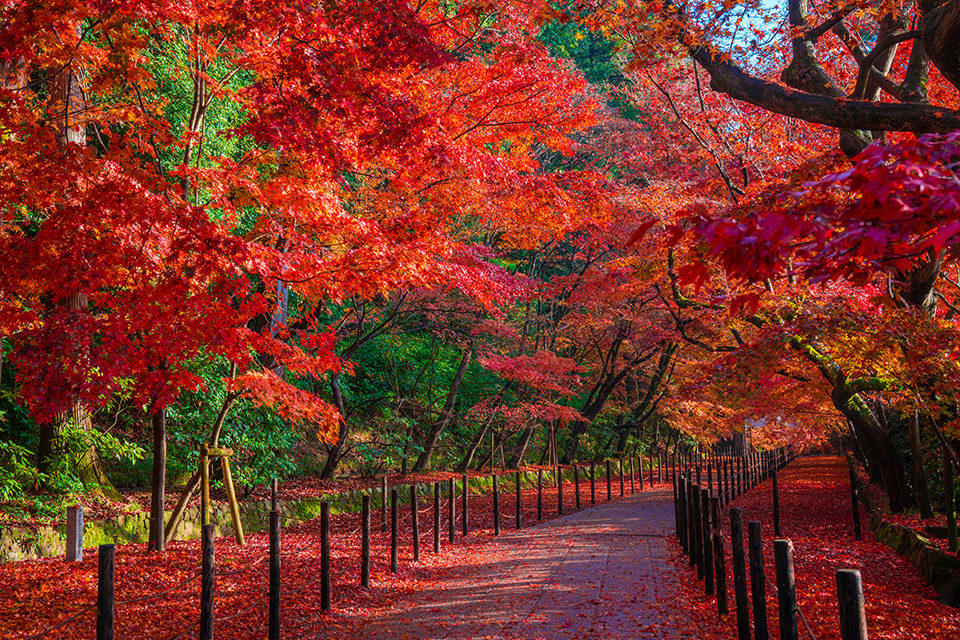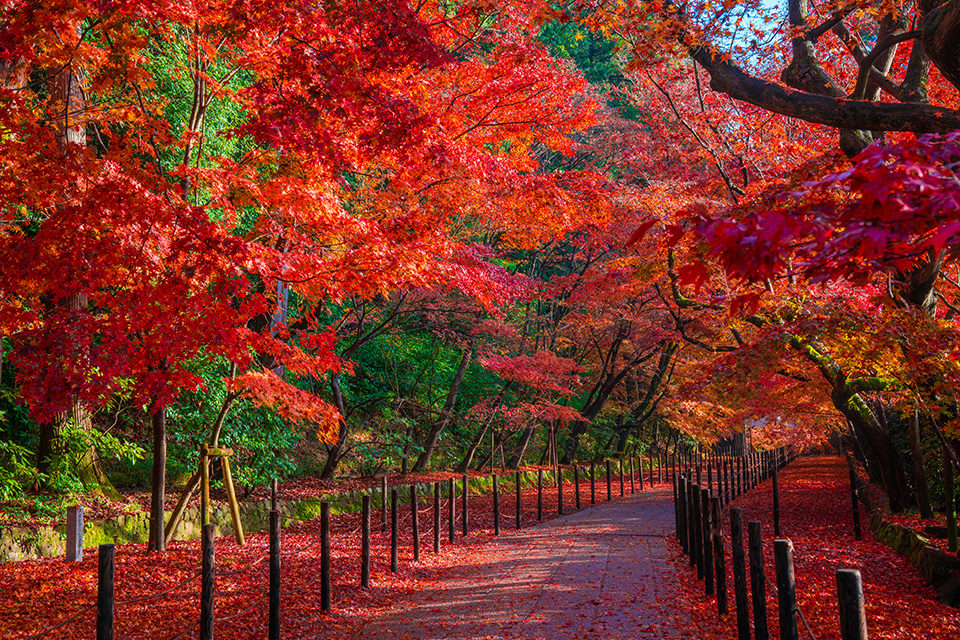 Komyo-ji Temple is located at Nagaoka-kyo, far away from Kyoto town center. There is famous because the advertisement on TV. And turn to be well-known in whole Japan. Being the representative of sightseeing spots, Kiyomizu-dera and Arashiyama are full of tourists all year. Too crowded, especially in autumn red leaves period, it is not possible to enjoy beautiful autumn quietly. But, since Komyo-ji Temple is far away from Kyoto center, so surely can have easy travel in comparison with others popular spots like Kiyomizu-dera and Arashiyama. Here is introduction for this hidden red leaves attraction, Komyo-ji Temple.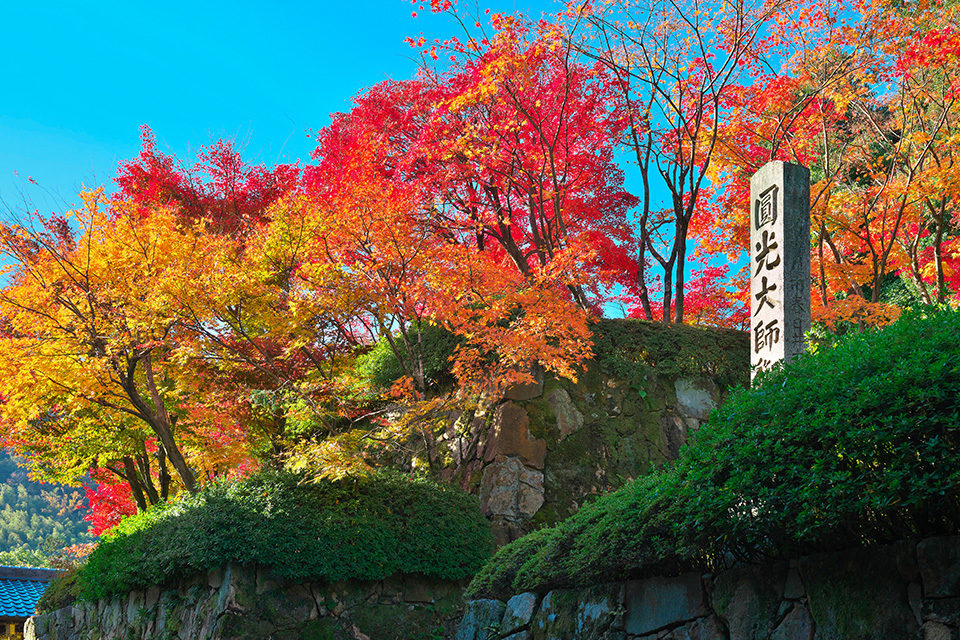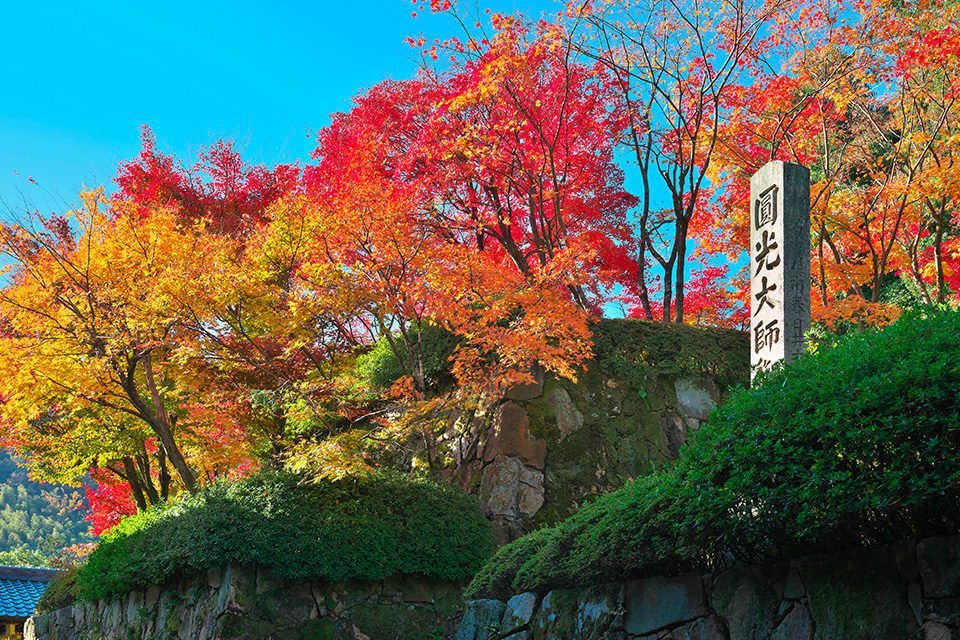 It is a Jodo-shu Temple mastered by Monk Honen in Kamakura period, located inside Nagaoka-kyo.
When is the red leaves period?
Red leaves at Komyo-ji Temple usually start to change color in early November. The best time for observation is late November. The fire like red autumn leaves like the charming lady that make you fall in love at the first sight.
How about the red leaves sceneries in Komyo-ji Temple ?
The autumn leaves in Komyo-ji Temple are so impressive for their vivid fire color. Here followings are the most recommendable red leaves spots at Komyo-ji Temple.
Red leaves at pilgrimage's path
The best place in Komyo-ji to admire red leaves must be the pilgrimage's path. At the left side of main door is the long sloped pilgrimage's path. Both sides of the path have lots of maple trees. People are like moving into a touch tunnel. There can enjoy the luxury atmosphere hugged by red leaves.
The pilgrimage's path paved by cobblestone
If it is time of falling leaves, the cobblestone paved pilgrimage's path are covered by deep red leaves is very eye-catching. The red maple leaves fall on the ground offer the beauty of messy. The feet seem to be dyed into red. It is the unique flavor of autumn.
The transportation to Komyo-ji Temple
Take Tokaido Main Line at Kyoto Station, get off at Tokaido Main Line then take the Hankyu Bus (Route no.20 or 22). It spends about 20 minutes to Asahigaoka Home Mae Bus Stop and get off here.
Car park of Komyo-ji Temple
There is no own car park here. It is a must to park the car park nearby, or take public means such as train and bus.
Is Komyo-ji Temple crowded?
Since 2009 it becomes the advertise background of JR Central Japan Railway Company, the name Komyo-ji was well-known all around Japan. Visitors increase year by year. But here will not be crowded as Kiyomizu-dera and Arashiyama. Visitors can travel more leisurely. Even on weekday, Saturday, weekend and public holidays, try to move in when it just opens to avoid throngs.
Red leaves spots around Komyo-ji Temple
If go to Nagaoka-kyo, of course not only can visiting Komyo-ji. The Nagaoka Tenmangu Shrine below is also worth a visit.
Nagaoka Tenmangu Shrine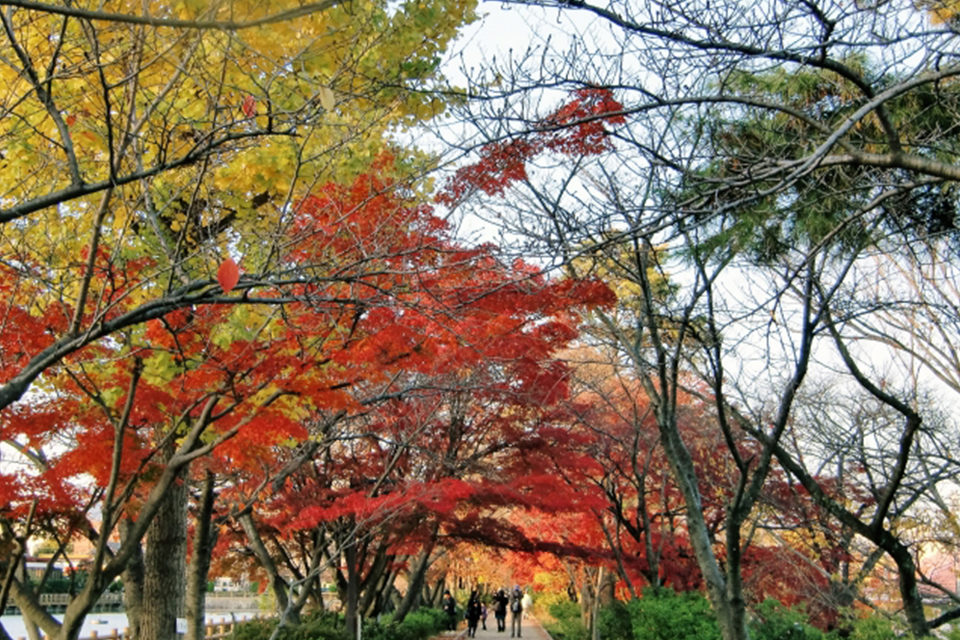 Be reputed as god of knowledge, Sugawara no Michizane, said that when he was exiled to be Osamu of Kyushu in 901AD, he turned back and watch Kyoto at this place. He died after 2 years. Later, people began to crave his image and worship him. Therefore becomes Tenmangu Shrine today. Compared with Komyo-ji, Nagaoka Tenmangu Shrine has less visitors and can freely admire red leaves here. There is a famous red leaves garden Kinkeien. It is as beautiful as postcard. Take your camera for photoing quickly!