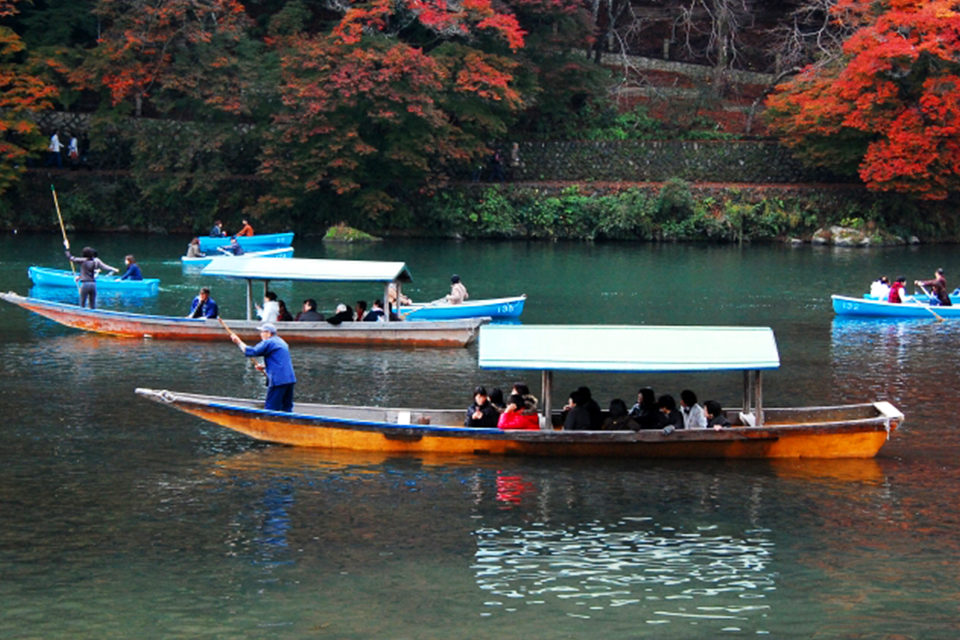 The popular view points of red maple leaves in Kyoto can travel by public means, such as rails and buses. If you want to enjoy the red maple leaves at those secret places, you have to take own driving. Here we recommend 2 routes. People can enjoy driving and red leaves at the same time.
Route 1: Kyoto Prefecture Road No. 40 (Hudou 40)
It is also named as"Shimogamo Shizuhara Ohara Line". It means the section of cross road of Shimogamo Hon-dori & Kita-Oji Dori to Oharaonagasecho of Sakyo-ku. In this section of the road, there are some special stops for cars for people to enjoy red leaves.
Kyoto Botanical Garden
The red maple leaves viewpoint is mainly at Nakaragi no Mori (natural forest garden). The Garden of Fine Arts Kyoto located at the northwest of Kyoto Botanical Garden is recommendable. Here demonstrates those international well-known pictures by big ceramic picture.
Opening hours:9時~17時(入園16時まで) 観覧温室開室時間:10時~16時(入室15時30分)  拝観料:一般200円、高校生150円、中学生以下無料
アクセス
京都市左京区下鴨半木町
地下鉄烏丸線北山駅下車3番出口すぐ
市バス・京都バス植物園前バス停下車、徒歩5分
見ごろ 11月中旬~12月上旬
Midorogaike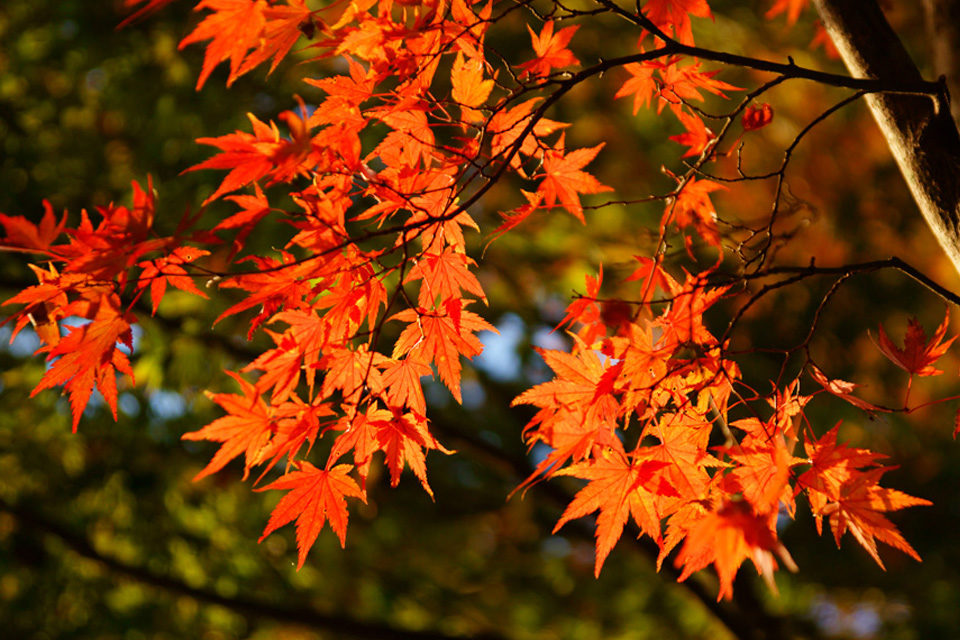 In the soft days, the reflection of those red maple leaves from mountains around and the island inside the lake, it is worthwhile to stop and admire for hours. As there is no lightening at night, visitors should come in daytime.
Opening hours: 24 hours Fee: Free
Address
Kamigamo Midoroikecho Kita Ward
Get off at Midorogaike bus stop by Kyoto or City bus
No car park
Entsu-Ji Temple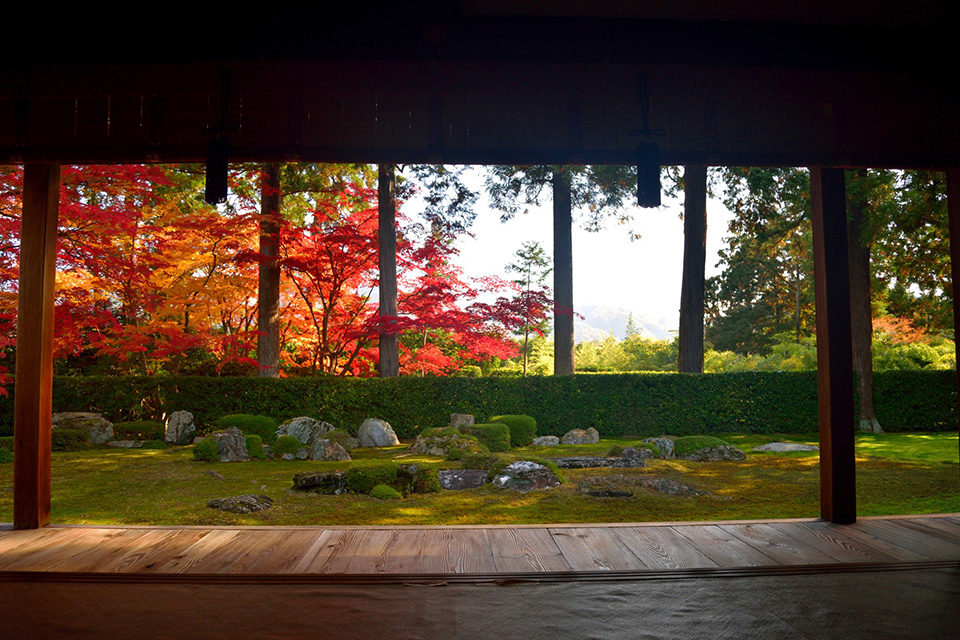 This temple was build on monument of Hataeda Rikyu, that was the small villa built by Emperor Gomizunoo. Numerous tourists are attracted by the red maple leaves in the Karesansui dry rock garden. Among the spaces between tress and trees, visitors can enjoy the landscape of Mountain Hiei.
Opening hours:12月~3月 10時~16時 4月~11月 10時~16時30分 ※受付終了は閉門30分前 Fee:大人(高校生以上)500円、中学生以下300円 
Address
京都市左京区岩倉幡枝町389
叡山電車京都精華大駅下車徒歩約25分
京都バス自動車教習所前バス停下車、徒歩約10分
地下鉄烏丸線北山駅下車、徒歩約30分(タクシーで5分)
駐車場:自家用車20台分無料
見ごろ 11月中旬~12月上旬
Fudarakuji Temple (Komachidera Temple)
It generally is named as Komachidera Temple for the famous singer Ono no Komachi of Heian period passed away in here. The main hall was removal of the hall Gomadou of Kurama-dera Temple. Visitors can enjoy the view of Sugata Minoi (姿見の井) and the red maple leaves surrounded, looks like the dance of Ono no Komachi.
Opening hours: 9:00am to 4:00pm Fee: Free (need to ask for dedication before entering the main hall)
Address:
140 Shizuichiichiharacho Sakyo-ku
Get off at Komachidera Temple bus stop by Kyoto bus
Car park for 10 cars
Kawashima Selkon (Textiles Company)
There is a textile culture hall nearby the Komachidera Temple. It is interesting to visit even though it is not a place for red leaves. Visitors can book a visit to know and learn about the textile products and knowledge during Meiji, Taisho and Showa period. Also you can admire the original paintings of different famous Japanese painters. It takes about 30 to 60 minutes.
Opening hours: 6:00am to 4:00pm (Last entrance at 4:00pm) Off day: Saturday, Sunday, holiday and business holiday Fee: Free (Call 075-741-4323 for reservation)
Address:
65 Shizuichiichiharacho Sakyo-ku (Kawashima Selkon Textiles Co., Ltd.)
Get off at Ichihara Station of Eizan Railway, 7 mins walk
Get off at Komachidera Temple bus stop by Kyoto bus, 5 mins walk
With car park (available for large vehicles)
Satonoeki Ohara
Here is the direct-sale market of agricultures. People can buy the vegetables form Ohara and the traditional home made rice cake (Mochi).
Opening hours: 9:00am to 5:00pm Restaurant (レストラン花むらさき): 9:00am to 4:00pm (7:30am to 4:00pm on Sunday) Morning market on Sunday: 6:00am to 9:00am (only open on Sunday) Day off: Monday (If Monday is on holiday, day off will become Tuesday) Fee: Free
Address:
1012 Oharanomuramachi Sakyo-ku
Get off at Nomura-wakare bus stop by Kyoto bus, cross the red green light then turn right to Shizuhara direction, 5 mins walk.
Car park for 77 cars (NO1 and NO2 car park)
The end point of Kyoto Prefecture Road No. 40 (Hudou 40) comes across with National Highway 367. Driving to north side can arrive at different locations like Sanzen-in Temple.
Route2: Arashiyama Takao Parkway
Arashiyama Takao Parkway is in length of 10.7kn from Arashiyama to Takao. You can find the sightseeing platform of Ogurayama Mountain to overlook at the Hozukyo and the red maple leaves in Kyoto city. There is also a famous Hozugawa sightseeing platform for seeing the Hozugawa River and the train crossing the river. In the Shobudani Pond, we can also try other interesting activities like rowing and barbecue.
Opening hours: April to October: 8:00am to 7:00pm (Last entrance at 6:00pm) November: 8:00am to 9:00pm (Last entrance at 8:00pm) December to March: 9:00am to 6:00pm (Last entrance at 5:00pm) Fee: 830 Yen for motorcycle、1,180 Yen for private car、2,940 Yen for minibus、4,790 Yen for large vehicle Motorcycles under 125cc is not allowed on Saturday, Sunday and Public Holiday
Address
・Arashiyama・ Kiyotakikuchi Toll Gate
8 Sagatoriimoto Sennocho Ukyo-ku 30mins to Kyoto South IC, 45mins to Oyamazaki IC
Takao Toll Gate
Umegahata Hinokiyashirocho 30mins to Kyoto South IC, 45mins to Oyamazaki IC
You can visit some temples after entering the Takao Toll Gate
Saimyo-ji Temple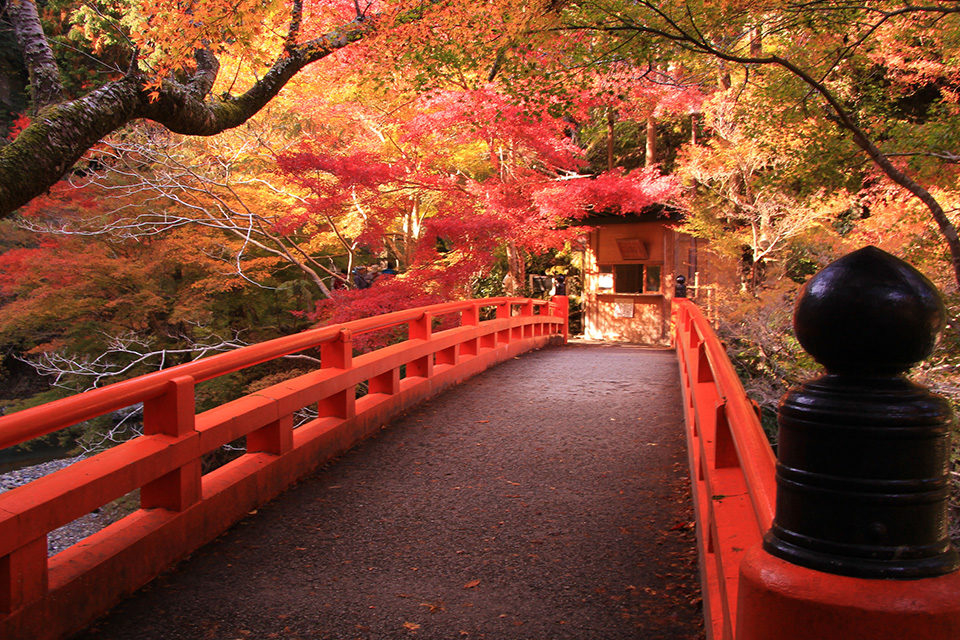 Walking pass the red Shigetsu Bashi Bridge, here is the Saimyo-ji Temple of Jingo-Ji Temple. The main hall was donated by Keisho-in, the mother of Tokugawa Tsunayoshi, the 5th Shogun of Tokugawa shogunate. People can admire the red maple leaves all around the temple. When you pass through the Shigetsu Bashi Bridge, try to find an angle that you can take a photo including the red bridge and the red leaves. The combination will be a great picture.
Opening hours: 9:00am to 5:00pm Fee: 500Yen
Address:
Umegahata Makinoocho Ukyo-ku
Get off at Maki Bus stop by JR bus, 5mins walk
Red maple leaves period: Mid November
Jingo-Ji Temple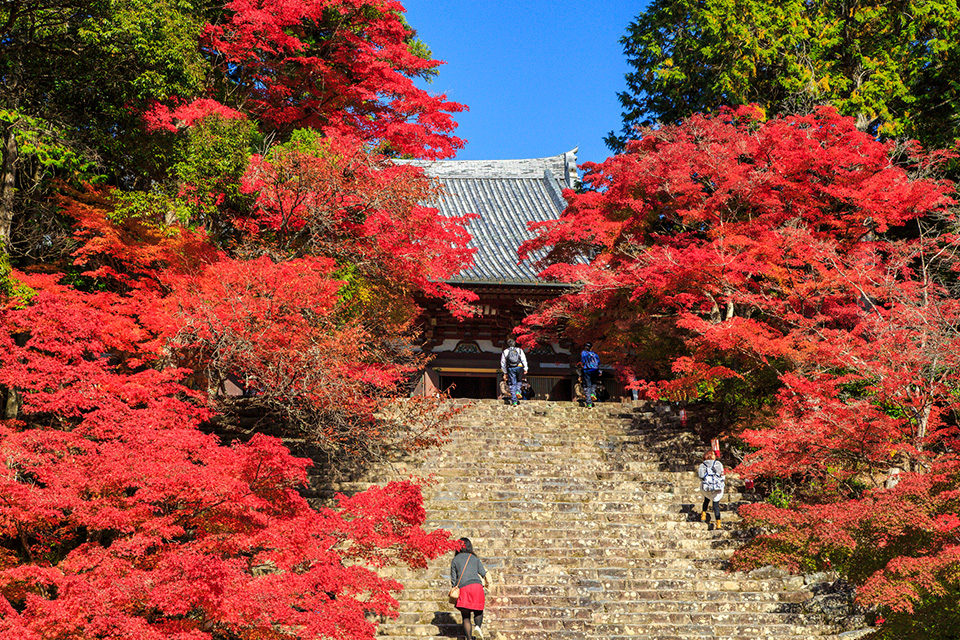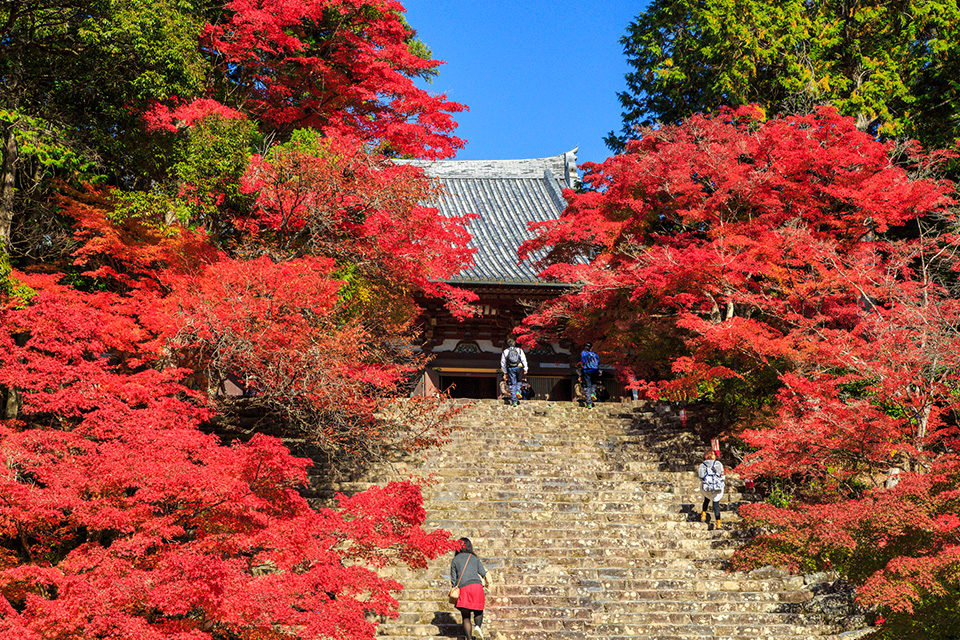 Other than the pretty views of the temple, a tea stop will be found in the path behind the door. It matches the red maple leaves surprisingly.
開館時間:9時~16時 ライトアップ:11月5日~19日(2017年)受付:17時~19時(参道は20時まで) 拝観料:800円
Address:
京都市右京区梅ヶ畑栂尾町1-1
JRバス「山城高雄」バス停下車、徒歩約20分
市バス「高雄」バス停下車、徒歩約20分
約1kmの場所に京都市高雄観光駐車場があります。普通車は40台駐車可能です。
Red maple leaves period: 11月上旬~11月下旬
Kozanji Temple
Kozanji Temple was rebuilt by Japanese Buddhist monk Myoe and famous for the"Choju-jinbutsu-giga"which is kept for generations. The tea grew by Myoe is the origin of Uji tea. From the dim and wide edge at the west of Sekisui Garden, you can have a look of the red leaves outside. They seem specially bright. There are the 17 stone plates in diamond-shaped at the centre of the leading road. As a background for those red maple leaves, it forms a beautiful view.
Opening hours: 8:30am to 5:00pm Fee: 800Yen for adults (Red leaves period + 500 Yen), 400 Yen for children, Free under 6 years old
Address:
8 Umegahata Toganoocho, Ukyo-ku
Get off at Tadao bus stop by JR bus Takao・Keihoku Line to 「Tadao」「 Shuzan direction
Get off at Takao bus stop by City Bus No8, 15mins walk
Car park near the Tadao bus stop (Free for 50 cars, charged in November)
Red maple leaves period: Mid November
Epilogue It is difficult to go to Hozukyo without taking own driving. Generally, roads will be crowded or congested during red leaves period, but our recommended routes are little far away from main town, not that full of cars. If you reach Kozanji Temple after morning, the car park will probably be full. In such case, visitors can consider to park at the car park nearby Jingo-Ji, and take a walk to move around.