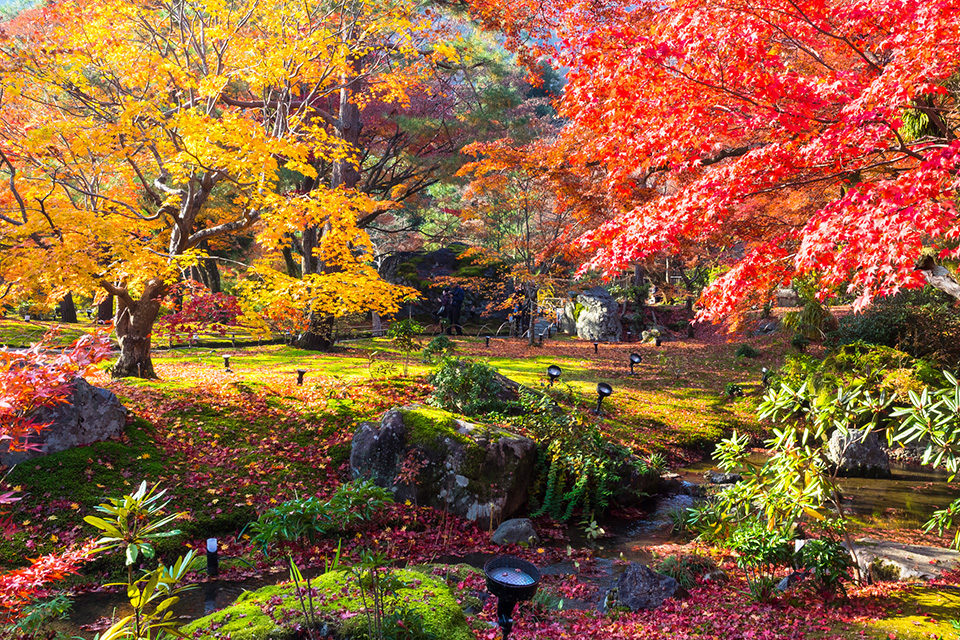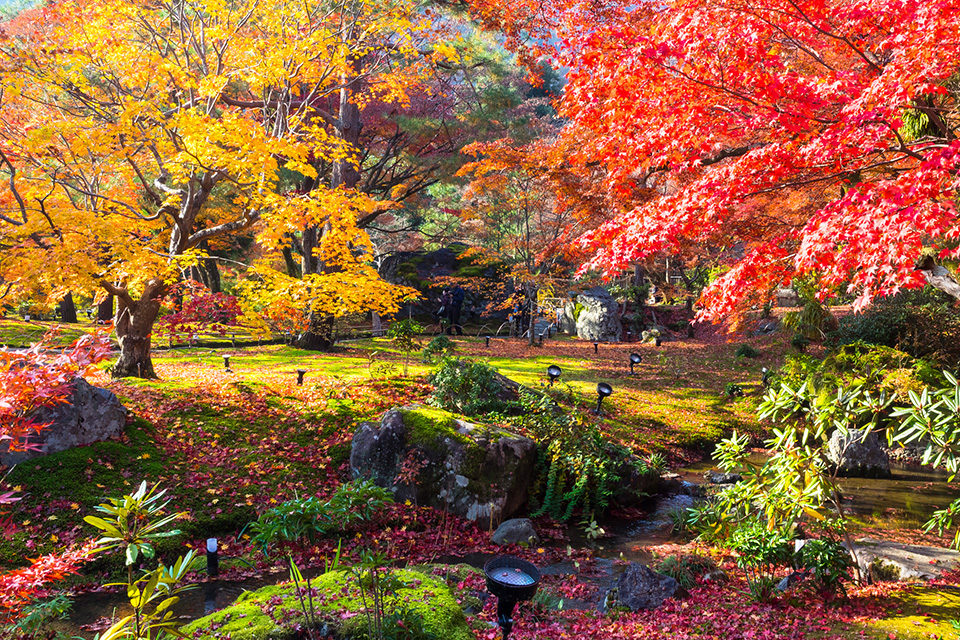 Being Tatchu sub-temple of Tenryu-Ji Temple, Hogonin Temple becomes famous because of "Shishiku Garden" which borrowed Arashiyama as background. Among the red leaves viewing places in Sagano, there is named as No.1.
Where are the places recommended for taking red leaves photos in Hogonin Temple?
Shishiku Garden was set up by the monk Sakugen Shuryo in Muromachi period. The name "Shishiku " is from when Buddha Gautama teaching text, his outlook was so grave and serious that like a roaring lion. Inside Shishiku Garden, there is a lion shaped rock, another rock like a carp jumping against the pouring water of a waterfall, and 3 Buddha statues of Gautama, Manjushri and Samantabhadra. Views more than 200 red leaves trees can be found. Before end of autumn season, visitors can enjoy falling red leaves in the garden full of green mosses. Move forward to the exit along the wall of Shishiku Garden, you will find yourself in a maple tunnel.
The lighten-up activities for autumn foliage in Hogonin Temple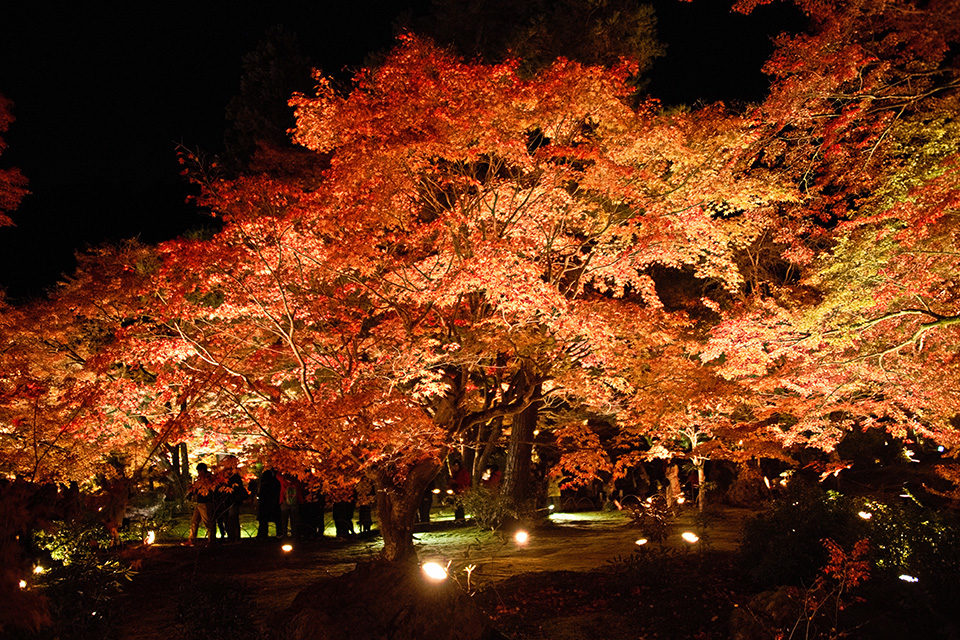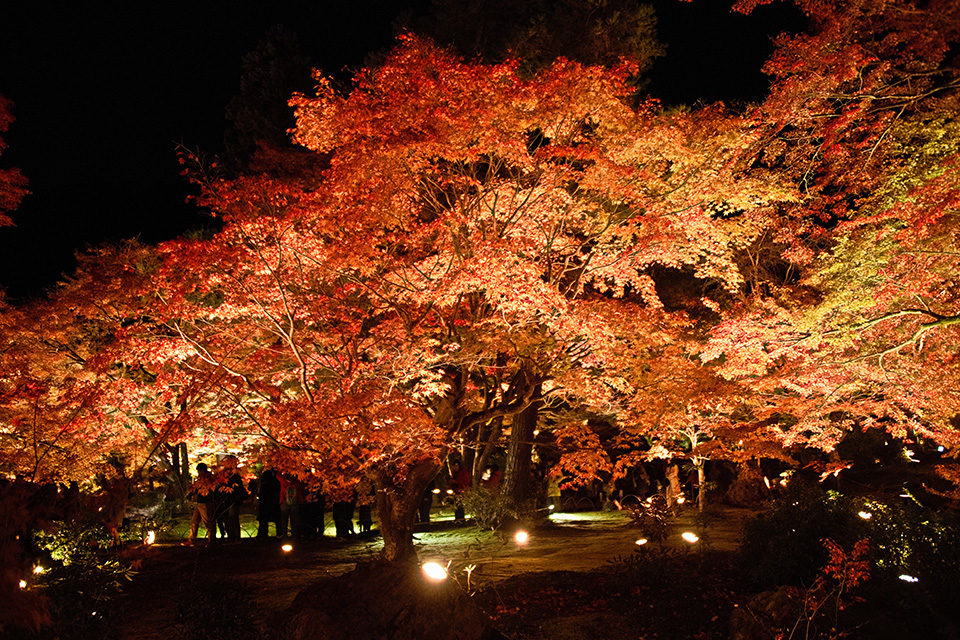 Both in the Shishiku Garden of Hogonin Temple and outside of the maple tunnel will hold lighten-up activities.
What is the period of seeing red leaves blooming in Hogonin Temple
Because climate varies every year, time of red leaves will change, mostly from mid November to early December. Better check internet for the update news of fall foliage. If you want to see the green maple views, please refer to the public events of spring and summer of Shishiku Garden. (17 March 2018 to 30 Jun 2018)
How crowded it will be in Red leaves period at Hogonin Temple?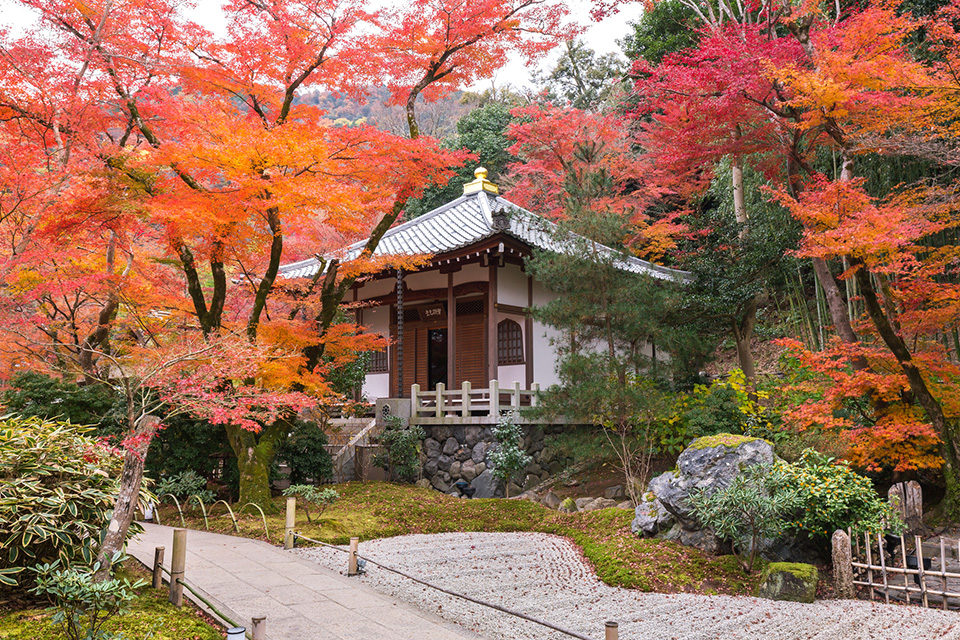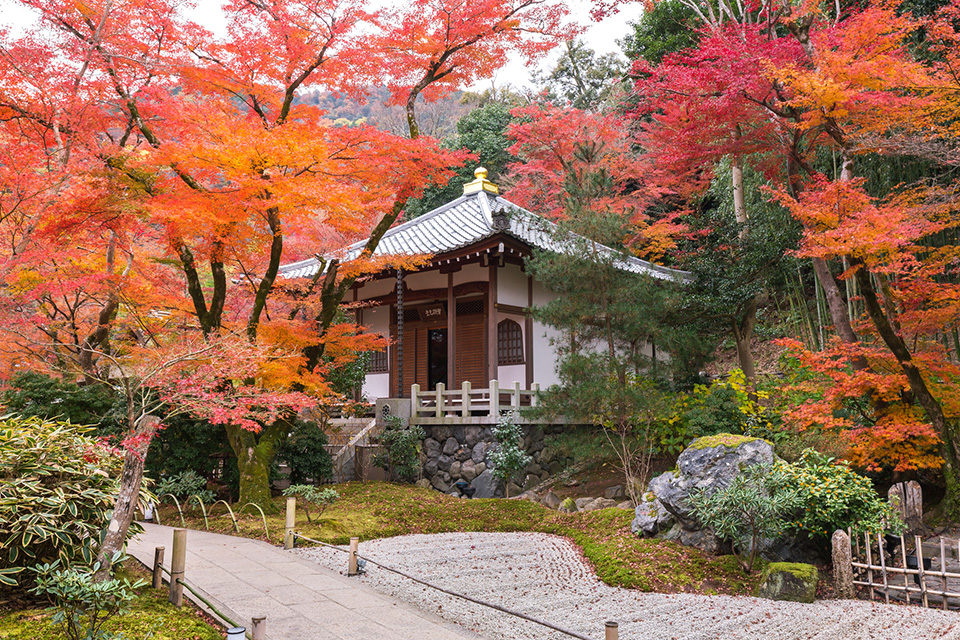 The beginning of lighten-up night tour is the most crowded and disordered. Peak times are holiday and weekends near 23rd November. If you move in when it is nearly closed, it will be more relax and can observe leisurely. There are always long queues in front of the ticketing machines. Suggest booking in advance. Then can move in more easily. In the autumn special worship event, there will be a "Healing Randen Railway One Day Pass "and "Special Night Worship Ticket in Hogonin Temple". You can buy those tickets in Shijo-Omiya Station, Arashiyama Station, Kitano-Hakubaicho Station and Katabiranotsuji Station of Randen Railway. The 1,300 Yen "Healing Randen Railway One Day Pass" includes tickets of Hogonin Temple (500Yen) + Main Hall Worship (500Yen) + Randen Railway One Day Pass (500Yen). It is 300Yen cheaper than buying the tickets separately. If you want to visit Hogonin Temple at daytime, suggest coming in the early morning time.
Features of Hogonin Temple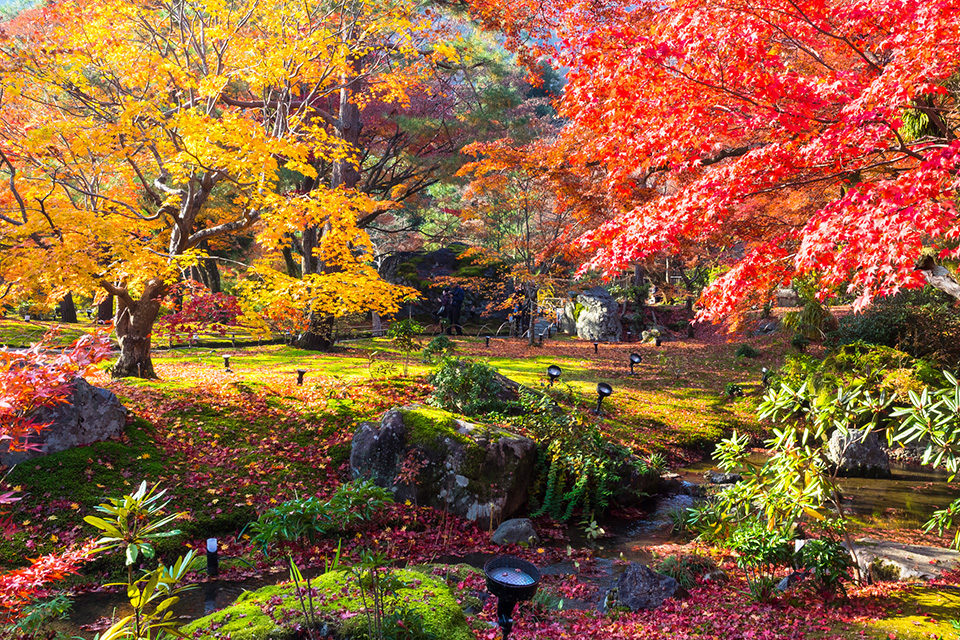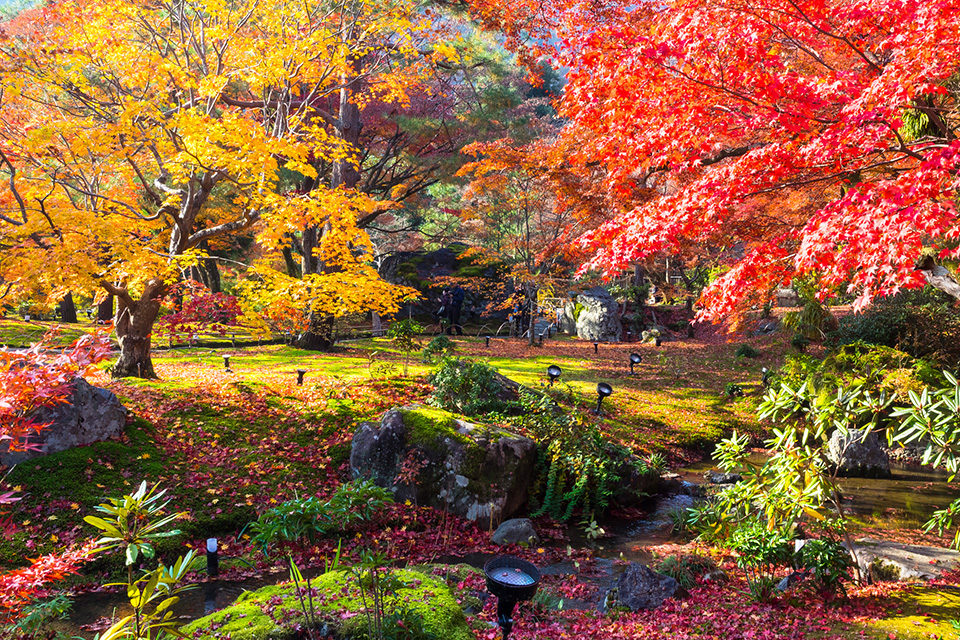 A famous tea house named Muian is located in Shishiku Garden, a good place to enjoy red leaves and take green tea at the same time. There is an old rock Hekigan. People said it has been under the sea more than 2 billion years. Though Shishiku Garden needs to change separately, tourists can see the painting work named "Huugasannsann"(風河燦燦三三自在) that was painted on Japanese paper door by great modern painter Noriko Tamura. This kind of Japanese paper door mainly takes red color for the major shade. People say this color looks like the color that baby can see when they are still in their mother's body. Seizan Sodo is not in Hogonin Temple, it is in Shunkoin Temple which is Tatchu sub-temple of Tenryu-Ji Temple. The master was Sakugen Shuryo who made Shishiku Garden. Seizan Sodo was the originated place of Sagano Tofu Soup. Tourists can reserve the seat of the famous tofu restaurant Saga before go to Hogonin Temple. After finish the traveling, then go to enjoy the fixed meals of tofu soup. If you do not reserve for tables, you may not have a seat.
Other red leaves view places around Hogonin Temple Tenryu-Ji Temple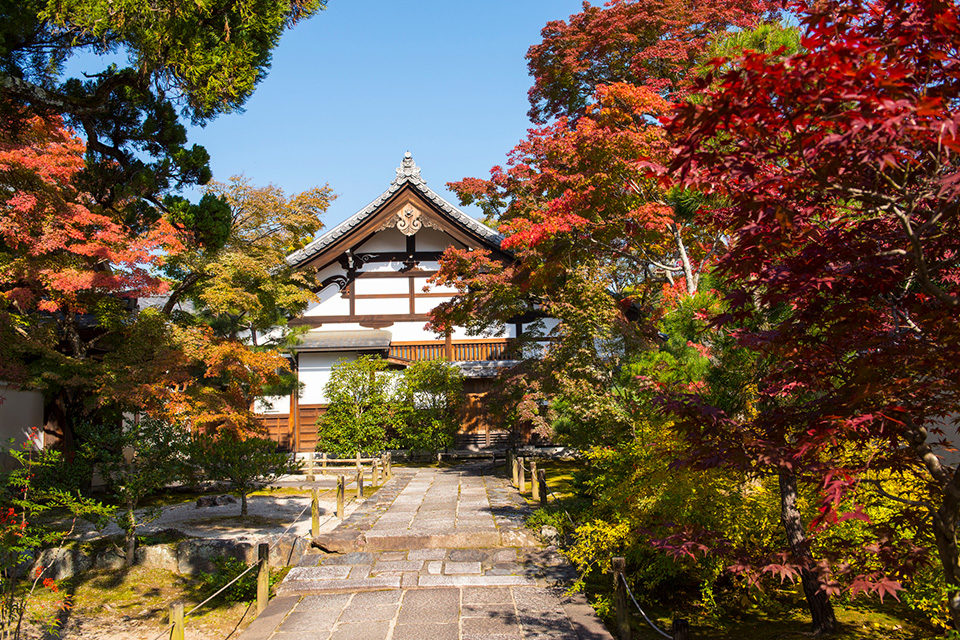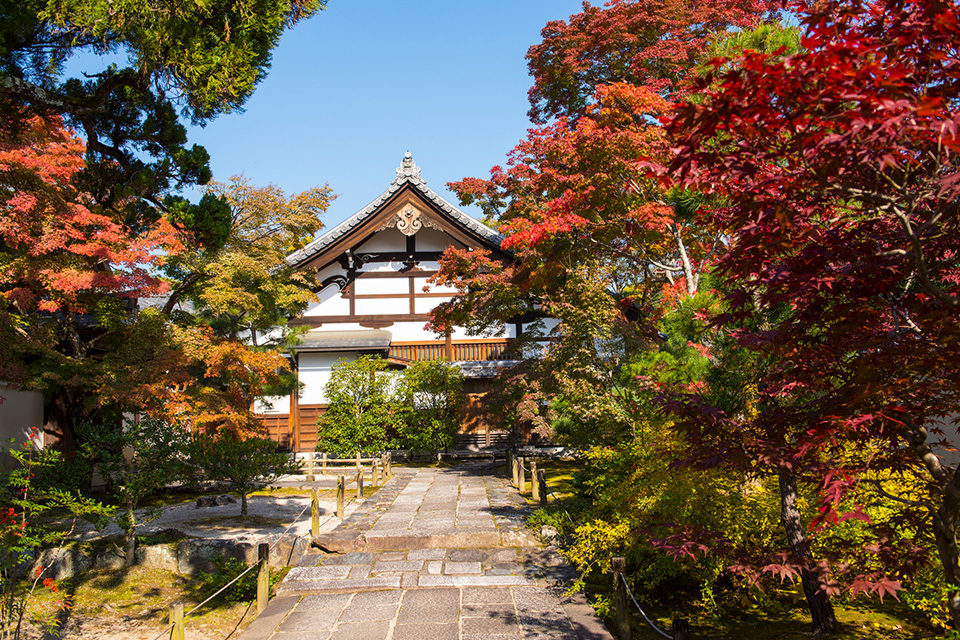 Tenryu-Ji Temple
Tenryu-Ji Temple is one of the World Cultural Heritage of Kyoto. The Sogenchi Garden was set up by the famous monk Muso Soseki who used Arashiyama as borrowed scenery, where is good for fall foliage views. Red leaves are in many places in Hogonin Temple. Such as the pilgrimage's path and the empty space at entrance of Kuri (living quarters). Come for sightseeing in early morning in the red leaves period.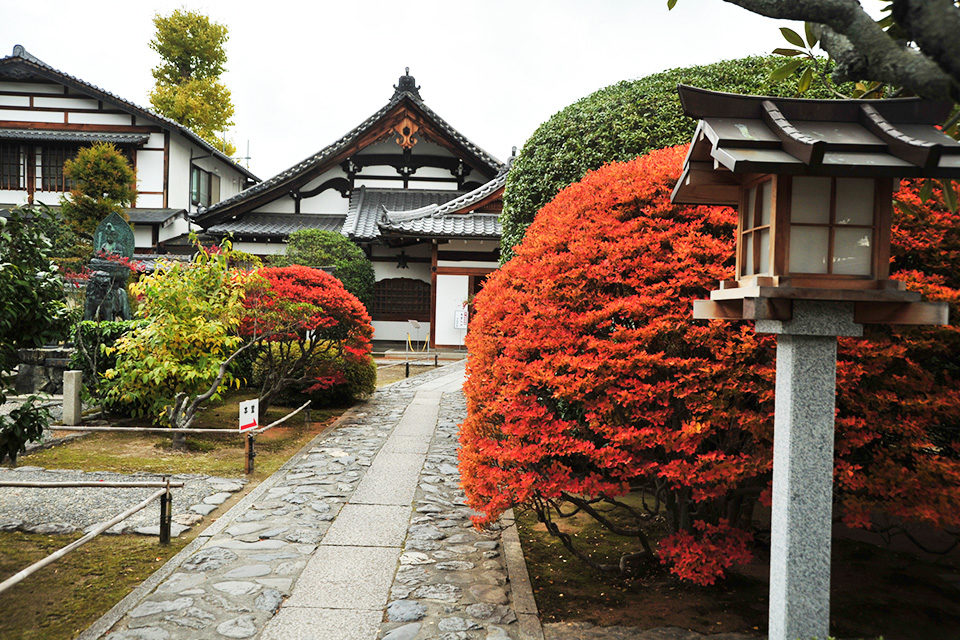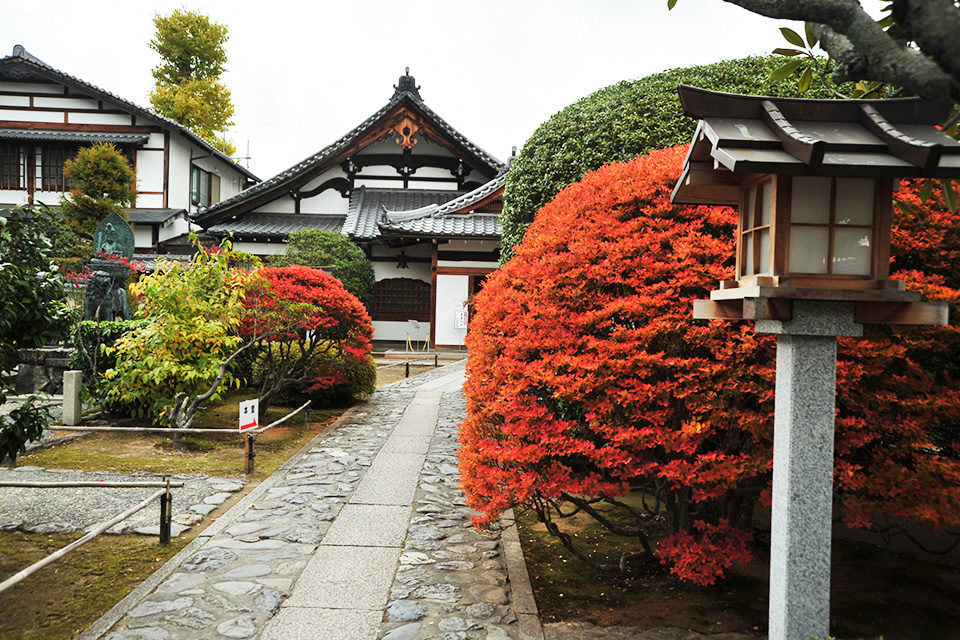 Hongyuansi Monastery 
It is a Tatchu sub-temple of Tenryu-Ji Temple. There are pictures of the modern painting pioneer Takeuchi Seiho as decoration. These pictures are supposed to encourage the son of Takeuchi Seiho who got illness and stayed for recoverage in Hongyuansi Monastery . The Kosho Garden of Karesansui dry rock garden that borrowed scenery from Arashiyama is a good place for red leaves.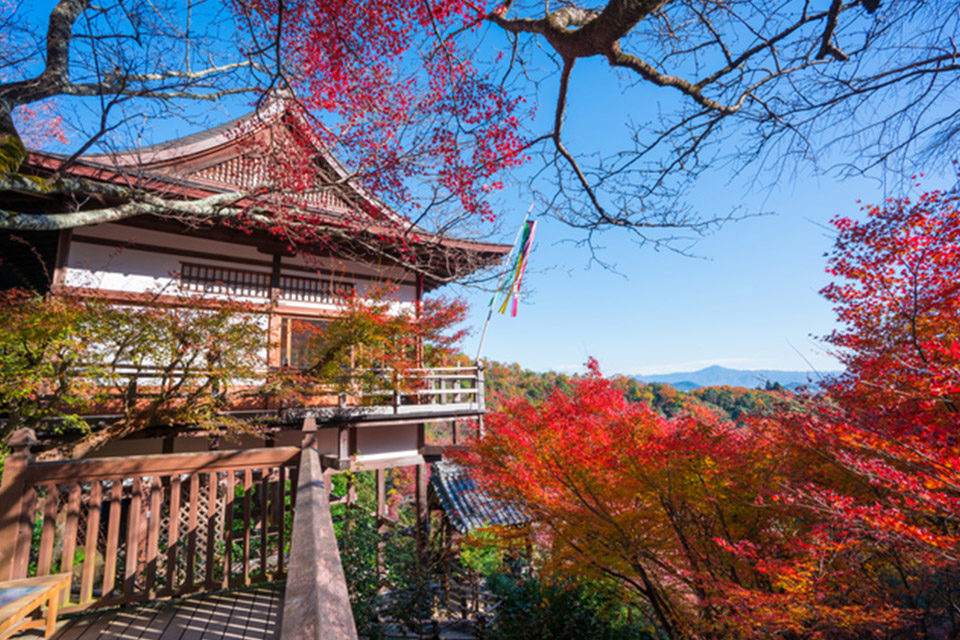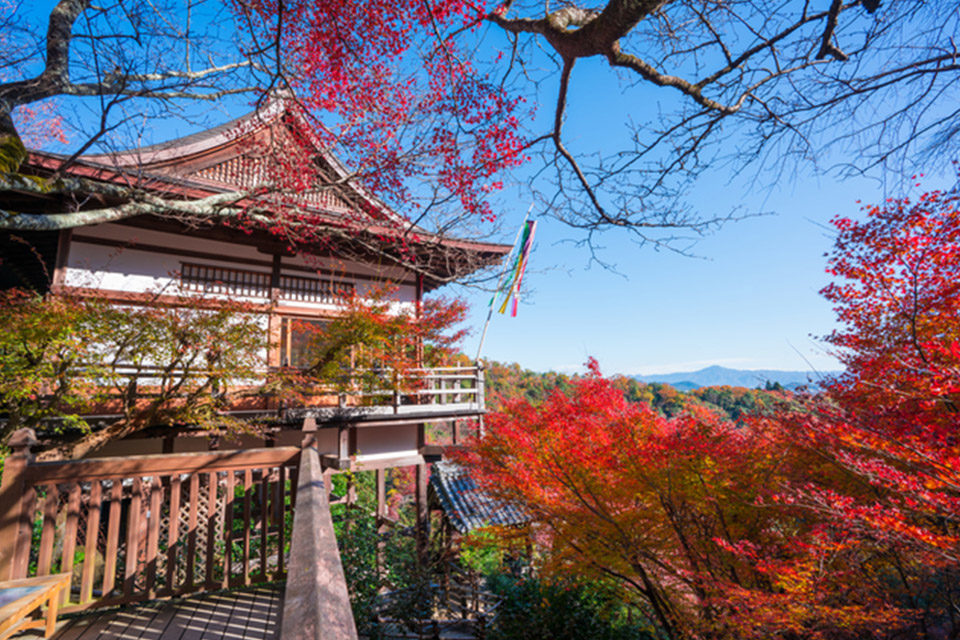 Daihikakuzan Senko-ji Temple
It is located at the waist of Arashiyama and built by the wealth merchant Suminokura Ryoi in Sengoku period to grieve over those workers died in the construction project in Katsuragawa. In the temple, full sight of Katsuragawa and the whole Kyoto City can be seen. Of course, red leaves are full of your sights.
Opening hours: 9:00am to 5:00pm (Stop admission at 4:45 pm) Night lighten-up event: 10th November to 3rd December (2017) at 5:30pm to 8:15pm last entrance Fee: 500Yen for adults, 300Yen for secondary and primary school Garden lighten-up event: 600Yen for adults, 300Yen for secondary and primary school
Address:
6 Sagatenryuji Susukinobabacho Ukyo-ku
Get off at Saga-Arashiyama Bus Stop by JR Sagano Line, 10mins walk
Get off at Arashiyama Station by Keifuku Railway Arashiyama Line, 3 mins walk
Get off at Arashiyama Station by Hankyu Railway, 10mins walk
Get off at Keifuku Arashiyama Bus Stop by Kyoto Bus, 5mins walk
Car park: With fee (Tenryu-Ji Car park)
Epilogue Only during the spring and autumn with special events for public will allow tourists to visit Hogonin Temple. Sakugen Shuryo was twice the ambassador for China during Ming Dynasty; his Shishiku Garden was treated as famous garden directory since Edo period. It was introduced in Miyakorin Sen Meishouzue (A garden guidebook of Edo period). Please use your own eyes and spirit to feel the beauty of Shishiku Garden during the lighten-up activity.