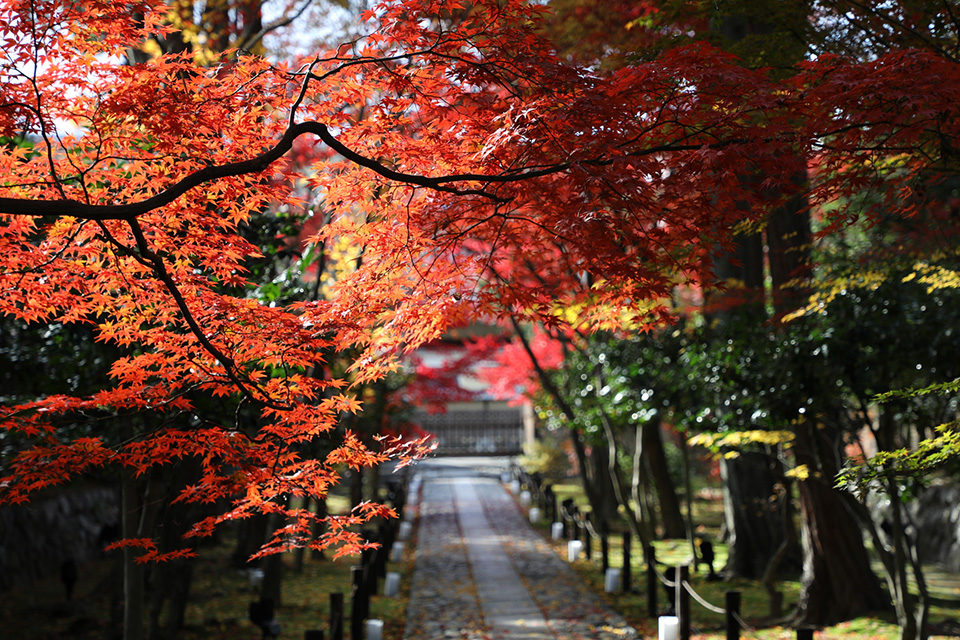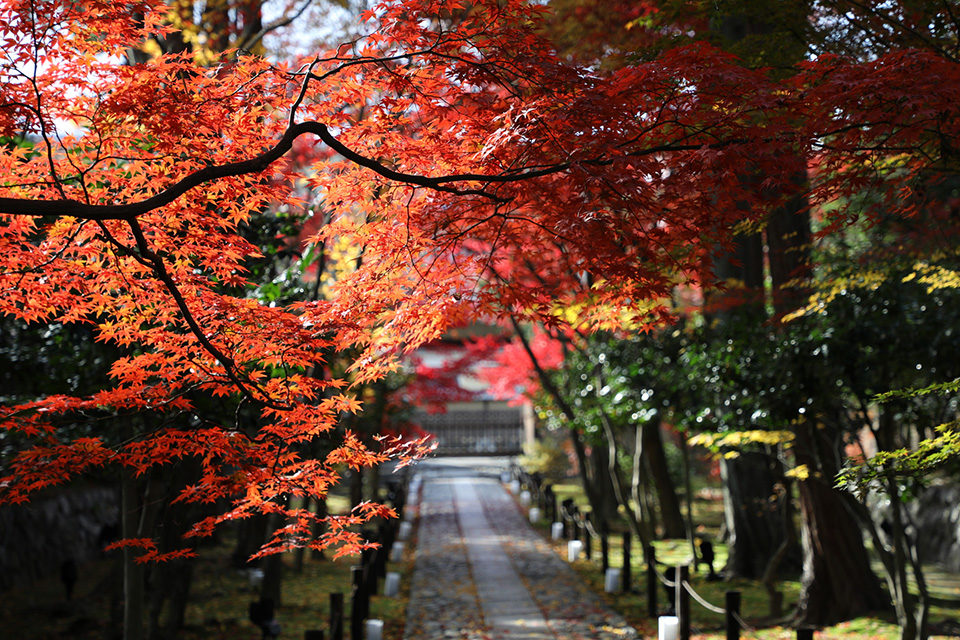 Not only introduce red leaves attractions information by ranking, but also introduce the places for relaxing. Because it is not able to avoid throngs of popular sightseeing spots, we will introduce the information of the best time to visit lighten-up night tour activities.
What is the best time to observe Kyoto autumn colors?
Though the best time in 2018 to observe Kyoto red leaves has not announced yet, based on former years, from mid November to early December is the ideal time. According climate reports of every year, the most beautiful days for observing red leaves will be in these days, suggest planning the trip and re-check the red leaves news from internet.
Observation of the red leaves in Kyoto
In lots of sightseeing cities of Japan, if want to catch historic feelings, Kyoto is such a city with honor. When situating in a long historic building or traditional garden, the feelings and atmosphere around like back to the Heian Period. Kyoto is an old city expressing different flavors of the four seasons. But the autumn red maple leaves will match with the old city. It should be the best season to travel Kyoto.
The ranking of Kyoto red leaves spots
Temples and mountains of Kyoto are surrounded by air in autumn, as beautiful as a postcard. Here followings will recommend extraordinary beautiful red leaves spots.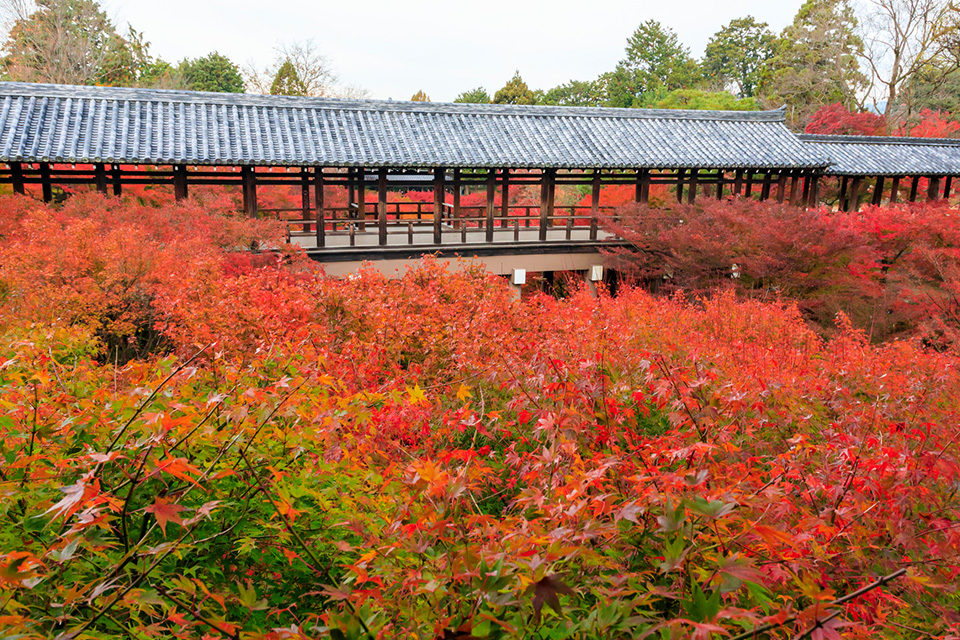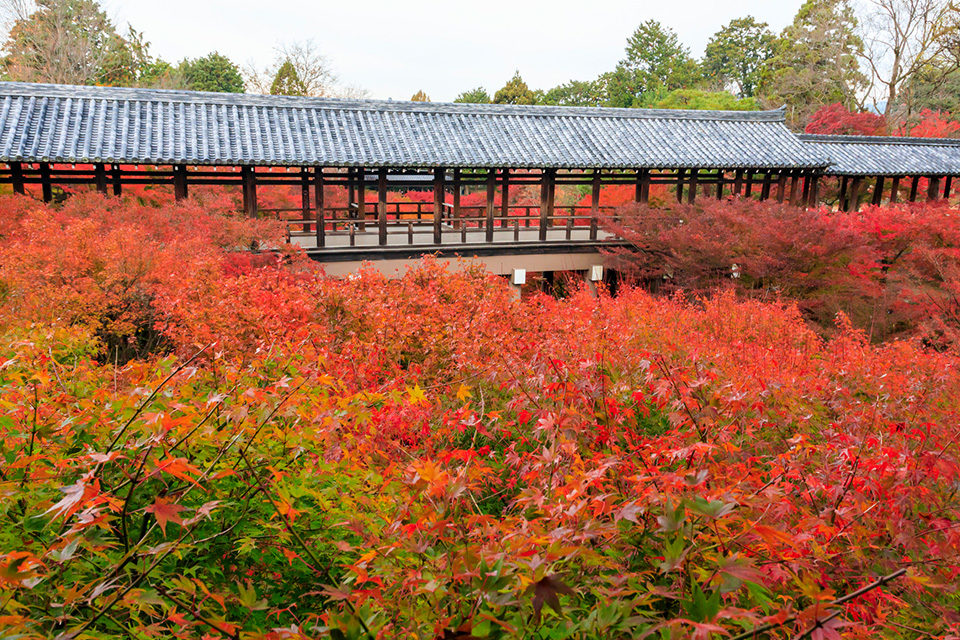 No.1 Tofuku-ji Temple
The most popular place for maple leaves. Tourists for red leaves must come here. Tofuku-ji can be said as the representative of red leaves. It can be a poster whenever you take a view at there. Looking down on the roof top wooden bridge, Tsutenkyo Bridge, the eyes are full of red and orange maples in a cloudy sea, this called Stream Valley scenery of Sengi yokukan. Tofuku-ji has large area and no matter to see from any angle. It looks like a postcard.
No.2 Kiyomizu-dera Temple
It is famous for sakura. Mountains are dyed into bright red in autumn, expressing the sweeping victory beauty. Even not in autumn, Kiyomizu-dera is also a popular sightseeing spot. Blue and red leaves, are the beauty of harmonious nature that can be seen at Kiyomizu Stage. The sunset makes the red leaves more shinny. With the lighten-up activities, the beauty cannot be described.
No.3 Arashiyama
Arashiyama is surrounded by red leaves. There are a lot of attractions. These famous red leaves spots can be found by direct feeling. Especially, the colorful sceneries of Togetsukyo Bridge which takes the bright red mountain as the background. Facing such majestic views, tourists all around will sigh involuntarily. A place let you enjoy red leaves and fresh with luxury time in between city. There are lighten-up activities expressing the natural uncanny workmanship under the lamps.
The best time to enjoy red leaves attractions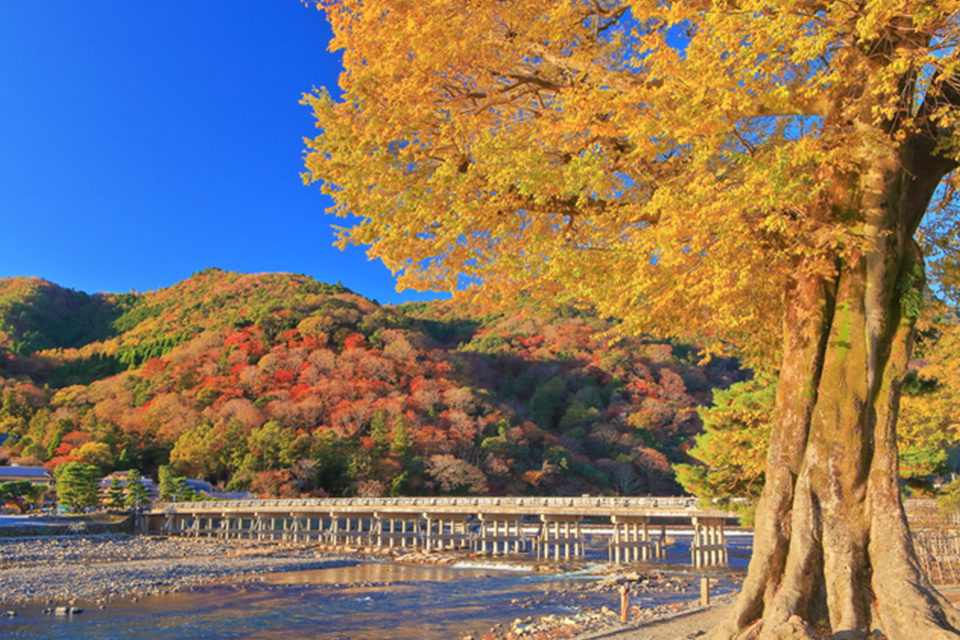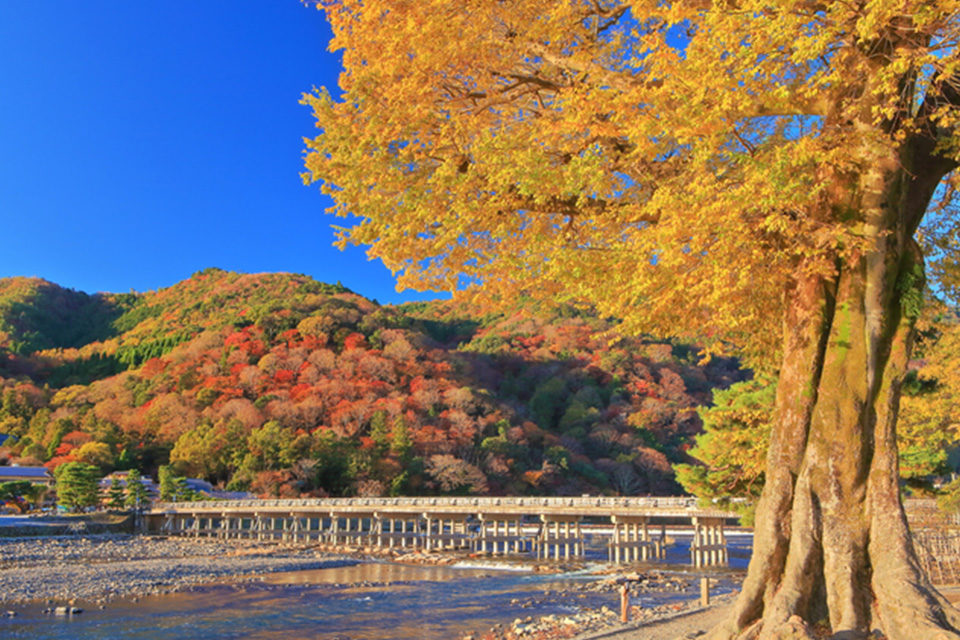 Red leaves at Tofuku-ji Temple will change colors generally in mid November, the best period will be late November to early December. Find red leaves at Kiyomizu-dera Temple roughly from mid November to early December. Lighten-up night tours will be started in mid November till early December. In Arashiyama, autumn foliage begin to change colors in mid November and the best time of last year is end November to early December. According to the microclimate, the best time for observation will change earlier or delay. However, this is a season bringing flu. Please wear enough clothes against cold wind.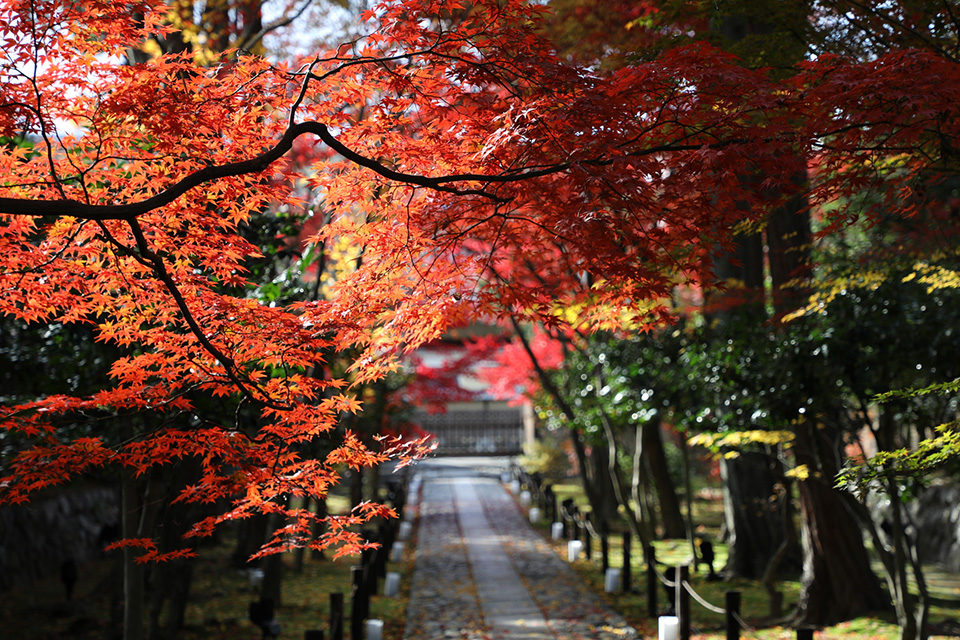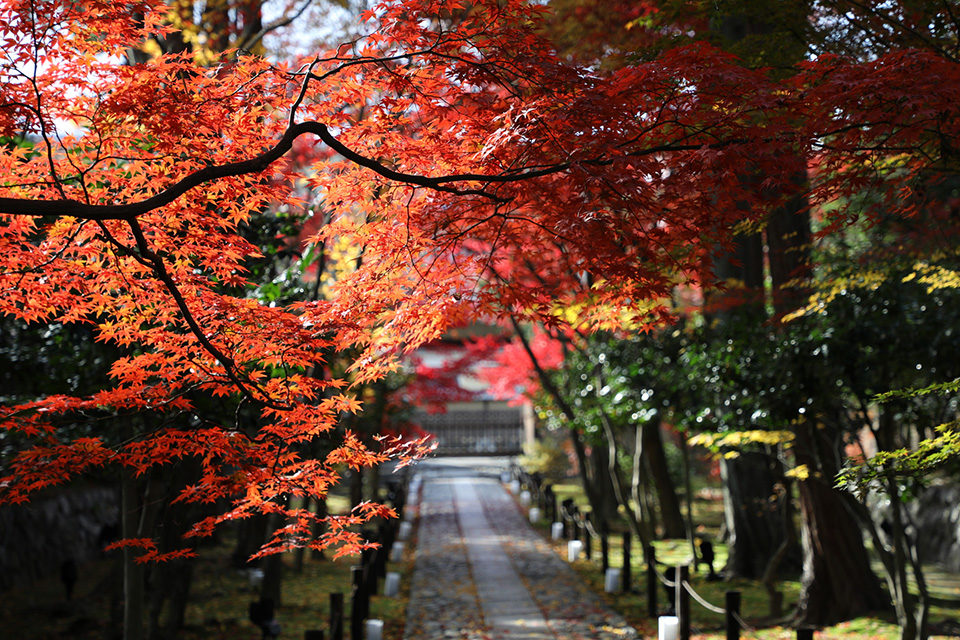 Famous red leaves attractions will be specially stuffed. Though visiting popular view spots is a good idea, suggest visiting some hidden attractions to release mentally as less tourists can here can enjoy Kyoto red leaves more quietly. Nearby the crowded Tofuku-ji Temple, there is a Komyo-in Temple. There are 2 gardens inside. One is named "Red Mosses Temple" and the other one is a Karesansui dry rock garden named "Hashin-tei Garden". To observe red leaves through the rounded window of the tea house in the garden is absolutely the best way to enjoy red leaves. The distance between Kiyomizu-dera Temple and Kodai-ji Temple is about 16 minutes by walking. It was built by Nene, the proper wife of Toyotomi Hideyoshi in 1606AD. Here can enjoy the reflections of red and yellow autumn leaves on the pond. Lighten-up night tours also are held in here. So no matter daytime or nighttime, visitors can observe red leaves. Rokuoin Station is 3 steps from Arashiyama Station. The Rokuoin Temple was built by Ashikaga Yoshimitsu, the 3rd shogun of Ashikaga shogunate. Though it is easy to reach here from Arashiyama, since there are not so many tourists, visitors can visit relaxingly here. There are also strong and tall maple trees, Bamboo wood and red leaves.
When will lighten-up night tours be held?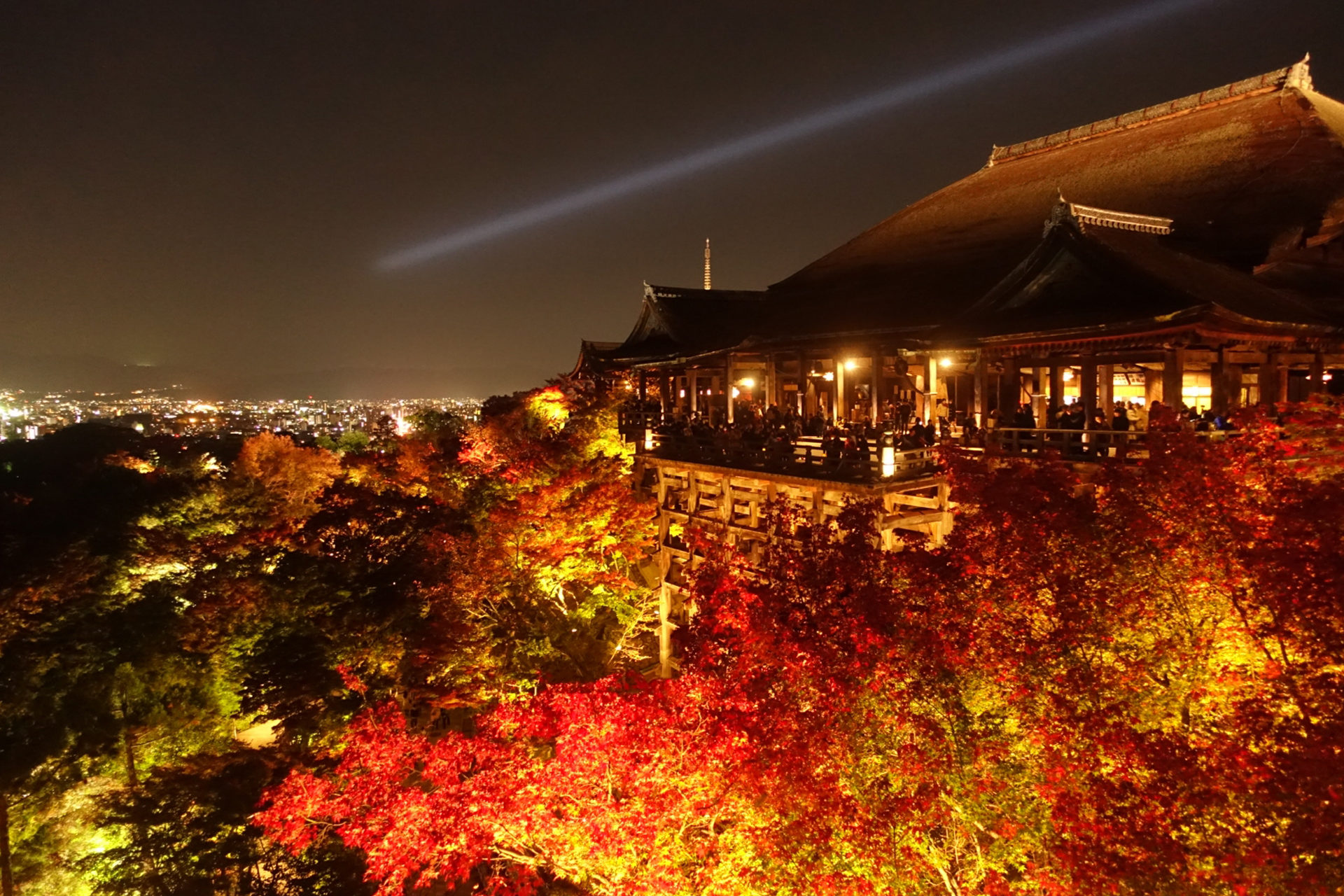 Though the colorful red leaves under blue sky and white clouds in daytime are very beautiful. Autumn leaves illuminated by lamps show completely different flavor. It seems into a dreamy world. Not every temple in Kyoto will run lighten-up night tour activities, the most representative land mark is Kiyomizu-dera Temple. The lighten-up activities will be held from early November to early December.